Kerala: Man brutally kills his father-in-law in Idukki
A man was arrested for brutally killing his father-in-law in Idukki. The police have arrested the accused, Jobin.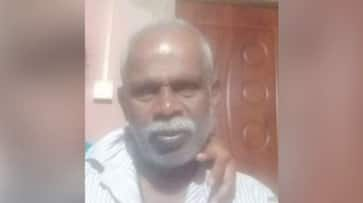 Idukki: A man brutally killed his father-in-law with a knife in Idukki on Wednesday. The deceased has been identified as Tomy. His son-in-law, Jobin, has been arrested by the police. Jobin's wife, Tintu, was also attacked during the altercation.
Tintu was seriously injured and was admitted to Kottayam Medical College. Her condition continues to be critical. The police suspect that the murder was due to a family dispute. The police have registered the case and started an investigation into this matter. Jobin was running a business in Bengaluru. Both Jobin and Tintu were separated due to continuous arguments between them.
Meanwhile, a middle-aged man was beaten to death during a verbal dispute inside a bar in Poojappura, Thiruvananthapuram, on Wednesday. Pradeep Pillai, a native of Mavelikkara and a postal assistant, died. Four people were taken into custody by Poojapura police. The incident took place on Tuesday night. 
On the day of the incident, Pradeep Pillai and his brother Pramod went to a bar to have drinks. Pradeep was staying at a nearby lodge. While they were drinking, they got into a verbal argument with a group of four people who were nearby. After the bar closed, the security staff asked everyone to leave.
After coming out, there was another clash between the two groups near the bar. Pradeep was punched down on the ground and he fell unconscious after hitting his head on the road. He was taken to the hospital however his life could not be saved. The Poojappura police have started an investigation into the matter.
Last Updated Nov 9, 2023, 8:48 AM IST