Kerala: KSRTC to provide special services from Kumily during Sabarimala season
KSRTC has started special services to Sabarimala from Kumily during the Sabarimala Season. Around 12 KSRTC buses have been arranged at Kumily bus station for devotees.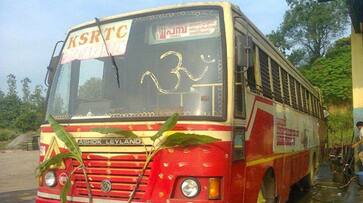 Idukki: The Kerala State Road Transport Corporation (KSRTC) has started special services to facilitate the travel of pilgrims on the occasion of Sabarimala Mandala Makaravilakku Mahotsavam. 12 KSRTC buses have been arranged at Kumily, in Idukki district which is the main stop for pilgrims. Special services will operate without affecting existing services. The ticket price is Rs 232. The Pampa bus will be available daily from Kumily Depot throughout Mandala Masam. The bus will leave when there are 40 passengers. A 24-hour control room has also been started at the panchayat bus stand in Kumily town.
Also read: Vrischikam 1: Why fasting is important during Sabarimala season; Read
The total number of buses for Pampa will increase to 15 with the arrival of three more buses. The Kumily Depot officials also informed that more buses will be allowed if there is an increase in the number of devotees.
Meanwhile, a special service has started at Vandiperiyar-Satram route for the Sabarimala season. The bus starts at 6 am from Vandiperiyar and will do eight trips daily. The last trip is at 7.10 pm. Apart from Kumily, a bus from Thodupuzha will also arranged for Pampa. It will start from Thodupuzha Sree Krishna Swami Temple premises at 7 pm
For more information: Kumily Depot Tel: 04869 224242.
Last Updated Nov 17, 2023, 1:40 PM IST