Kerala: Boat carrying 7 people overturns in Munambam; 3 saved, 4 missing
A boat carrying seven people overturned in Munambam in Ernakulam on Thursday at 7 pm. The incident happened 10 miles from Munambam Beach, at the north end of Vypin Island.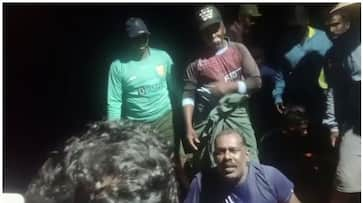 Kochi: A fishing boat carrying seven people capsized near Munambam in Ernakulam district on Thursday,( Oct 6). While three of them were saved, the search for four continued late till night. Anandan, Manikandan and Baiju were rescued out of 7 people in the boat. Shaji, Sarath, Mohanan and Raju are yet to be found.
The survivors were admitted to a hospital in Fort Kochi on Friday morning.
The search for the missing fishermen in the sea has continued in Munambam since yesterday. The search is being conducted by the Coast Guard, Marine Enforcement, and Coastal Police. Fishermen are also on the scene for the search.
Workers who survived the Munambam boat accident said that they saved their lives by hanging on to a drinking water can for 4 hours in the sea. The fibre boat sank around 4.30 p.m. The workers said that when the boat sank, everyone was scattered. 
 
Last Updated Oct 6, 2023, 8:48 AM IST