Kerala bags Responsible Tourism Global Award 2023 for creating market promoting local products
Kerala has bagged the Responsible Tourism Global Award for 2023 for the development of the tourism sector. This is the second time in a row that Kerala has received the Responsible Tourism Global Award.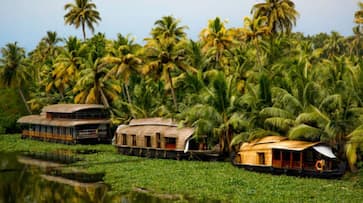 Thiruvananthapuram: Kerala has won the esteemed Global Responsible Tourism Award 2023, a significant testament to the sustainable and women-inclusive projects that the state's Responsible Tourism Mission (RTM) has been effectively promoting. This is the second time in a row that Kerala has received the Responsible Tourism Global Award. The Responsible Tourism Partnership and the International Centre for Responsible Tourism (ICRT) are the organisations that institute the award in the category of Best for Local Sourcing, Food, and Craft.
The award is a recognition of the initiatives carried out by the Responsible Tourism Mission. These projects focus on promoting local handicrafts and distinctive cuisine within the tourism industry. The mission has successfully executed several projects that highlight ethnic cuisine and offer experiential tourism packages, making a positive impact on responsible tourism in the region.
The most prestigious award offered for inclusive and sustainable tourism projects was chosen for the State RT Mission because of its ability to effectively sell indigenous products and connect women-led SMEs with tourism activities.
Kerala Tourism Minister P A Muhammad Riyas said that this is a recognition of the Kerala model of responsible tourism. This is an achievement that raises the reputation of Kerala at the international level. The minister added that more experiential tourism projects will be launched soon in Kerala
Meanwhile, the tourism department's project to develop rest houses is turning out to be a huge success after two years. The income from the rest houses is more than Rs 10 crore in two years. It has also given a huge boost to the state's tourism sector.
Minister Riyas also said that Rs 20 crore has already been sanctioned for renovating eight rest houses in Kerala. Apart from Fort Kochi, the Ponmudi rest house in Thiruvananthapuram, Thrithala rest house in Palakkad, Meppadi rest house in Wayanad, and Mattannur rest house in Kannur will also be renovated. The minister stated that all the rest houses will be developed and upgraded in a phased manner. The renovation of Rest Houses is intended to be complementary to the tourism sector.
Last Updated Nov 3, 2023, 5:55 PM IST