Karnataka: Win-win situation for BJP in Hirekerur before bypolls?
Religious, political pressure behind seer's decision to step away from fray. JD(S) leader HD Kumaraswamy appealed to the seer to withdraw his nomination ahead of Karnataka bypolls.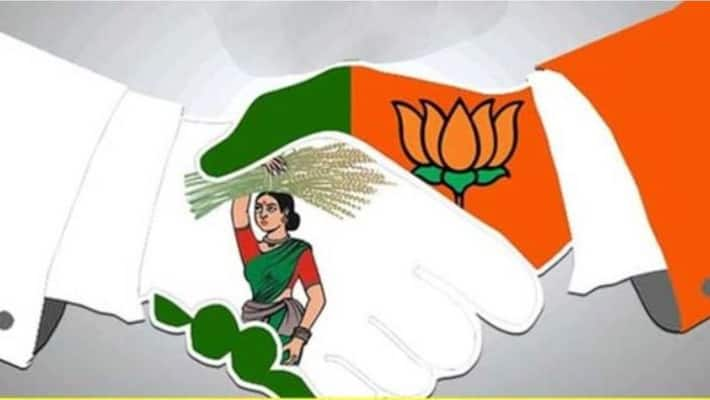 Haveri: The JD(S) gamble in Hirekerur of fielding a Lingayat seer against BJP's BC Patil seems to have backfired with the seer deciding to withdraw from the fray following religious and political pressure. The saffron party has been successful with their 'Operation Kamala' as the seer has decided to step down. 
Sri Shivalinga Shivacharya Swami of Kabbinakanti Mutt, Rattihalli said, "I decided to withdraw my nomination due to pressure from seers of Pancha Peetha." Though an official statement on the move was yet to be made, it is learnt that he has conveyed his decision to his aides. 
The development comes after former chief minister HD Kumaraswamy appealed to the seer on Tuesday (November 19) evening to withdraw from the contest. The party had sprung a surprise by giving him a ticket on Monday instead of its earlier announced candidate Ujneppa Jayappa Kodihalli. 
Former MLA and JD(S) leader NH Konaraddi, who visited the mutt in Haveri district on Tuesday night, told media that at the direction of Kumaraswamy, he had gone to the mutt to convey to the devotees that it was left to the seer whether to contest or not and that the party would not object if he decided to withdraw. 
Meanwhile, in Bengaluru, Kumaraswamy announced that he had appealed to the seer to withdraw from the race. "Some have pressurised the seer to withdraw. I have told him (seer) that he could contest in the elections without affecting his religious work." He further said, "Because of all these pressures, I have told him to withdraw from the race. Other mutt seers should not be angry with my political move. I have also requested that there should be no misinformation campaign against me."
Sources in the party said that the decision of Kumaraswamy requesting the seer to refrain from the political fray comes in the light of intense pressure from religious leaders and also party chief HD Devegowda favouring the move. The party decision was also that it could avoid wading into the already complicated Lingayat issue.
Former chief minister HD Kumaraswamy slammed the disqualified MLAs who led the toppling of his government back in July. 
He said, "The win of the disqualified legislators will be a mockery of democracy. We are hopeful of the party performing better than the Congress and the BJP."
Last Updated Nov 20, 2019, 1:14 PM IST