Karnataka: Temporary relief as students sell onions at Rs 60 per kg in Tumakuru
Onions were sold at Rs 60 per kg in Karnataka's Tumakuru while in Bengaluru the prices rose up to Rs 120/kg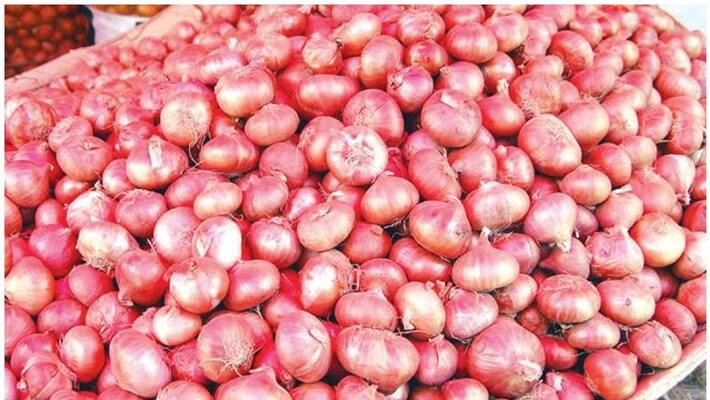 Tumakuru (Karnataka): While others are pinching their pockets with onion price skyrocketing, people in Karnataka's Tumakuru are
rejoicing.
Onions were being sold at Rs 60 per kg in Tumakuru. The old stock of onions was cleared at Rs 60 per kg which served consumers on a first cum first serve basis.
People were seen flocking Vishwa Vijaya Vidyalaya where students' market is being organised. The students were selling onions at Rs 60 per kg.
The students are selling various items including groceries but onions grabbed the attention of the consumers.
The skyrocketing price of onions has taken a toll on the onion-rich food items in and around Bengaluru but in Tumakuru the consumers were elated to buy onions at only Rs 60 per kg.
A student named Charan brought onions he had grown in his backyard and sold it at Rs 60 per kg becoming the centre of attention. He sold about 100 kg of onion within minutes.
However, the students had a widespread of items they sold at their market. Greens, vegetables, groceries, coconuts were available at the market. It wasn't just a place to buy things but many hogged on chaats and snacks. Students with the help of their parents sold chaats like bhel puri, pani puri and snacks such as samosa, cutlets and others.
Women accessories and children toys were also kept for sale at the market. The school principal Vijayalakshmi along with other teachers praised the students for the efforts of setting up a market.
Presently, the onions are being sold between Rs 80 and Rs 120 per kg depending on the quality, in Bengaluru.
Last Updated Dec 3, 2019, 4:58 PM IST