Karnataka Police brace up for Tipu Jayanti across state
Security has been tightened across Karnataka on Sunday in view of Tipu Jayanti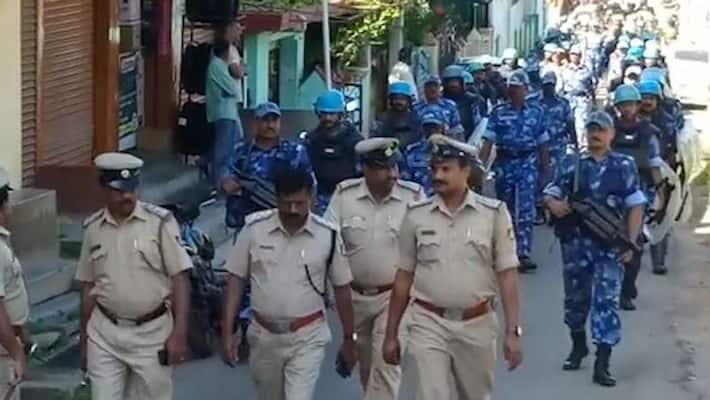 Bengaluru: The Karnataka state police have heightened security across the state in the wake of Tipu Jayanti to prevent any untoward incidents and maintain peace and harmony. 
Various Muslim organisations have planned celebration as a private affair as the state government banned the jayanti. The police have restricted any kind of procession as part of the celebrations. 
Police commissioner Bhaskar Rao held a meeting with the higher police officers of the deputy commissioner police rank. 
Bhaskar also had held a meeting earlier with the religious leaders and sought their support to maintain harmony in the backdrop of Ayodhya verdict and Tipu Jayanti celebrations. 
"We are prepared for Sunday's bandobust in the backdrop of Tipu Jayanti celebrations and Eid Milad. We will deploy adequate number of policemen and armed personnel at sensitive places," said Rao. 
According to a report in Times of India, Bhaskar said police have banned the sale of liquor on Sunday on the occasion of Eid Milad and Tipu Jayanti. "Sale of all types of liquor is banned from Sunday 6am till midnight. Bars, shops, pubs and liquor shops shall be shut and not sell liquor," Bhaskar added. 
Security has been tightened particularly in Mysuru ahead of the Tipu Jayanti celebrations. 
The celebration organised by MLA Tanveer Sait has been postponed as the matter is pending in the court. 
Tanveer Sait had moved Karnataka high court as Mysuru Urban Development Authority (MUDA) had denied permission for the celebration at Bal Bhavan ground, owned by MUDA.
The Siddaramaiah-led Congress government began celebrating Tipu Jayanti in 2015 as a state-sponsored Tipu Jayanti, which was stopped by the present BJP government on July 30. The Karnataka high court passed an interim order on the cancellation of Tipu Jayanti celebrations and said the state government should take precautionary measures if any celebrations are done across the state. 
The high court ordered the state government to take an appropriate decision in two months and get back to it by January 3, 2020. The court also said that any individual or private organisation can celebrate Tipu Jayanti on November 10, 2019, whereas the state government can decide whether state celebrations will take place on Tipu Jayanti.
Reacting to the high court's order, BJP spokesperson Shreenath Sheshadri said, "We don't have an issue with any individual celebrating Tipu Jayanti. Officially government doesn't want to celebrate so our stand is very clear on that. On the matter of removal of topics on Tipu from textbooks I think textbooks should state all facts as it is in history and not report just a few facts about history." 
Last Updated Nov 10, 2019, 1:34 PM IST