Karnataka: IT issues summons to Congress strongman Shivakumar
Tension seems to be revisiting Karnataka Congress strongman DK Shivakumar as he has received another summons by the I-T department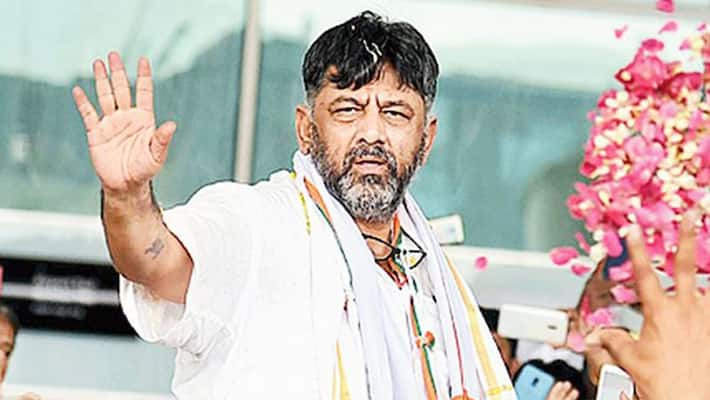 Bengaluru: Congress trouble-shooter DK Shivakumar, who had busied himself in campaigning in relation to the Karnataka by-polls, has received summons by the IT department. 
The leader was on his way to Athani and Kagwad constituencies, of Belagavi district. 
Once the news was confirmed, Shivakumar started his journey to Bengaluru, sources add. 
As per reports available, the IT had asked Shivakumar to appear before it by 10: 30 am today (December 2). 
The Congress leader was released in October after he had stayed put at Tihar jail. 
The case was based on a charge sheet (prosecution complaint) filed by the Income Tax Department against them last year before a special court in Bengaluru on charges of alleged tax evasion and 'hawala' transactions worth crores.
The I-T department has accused Shivakumar and his alleged associate SK Sharma of transporting huge amount of unaccounted cash on a regular basis through 'hawala' channels with the help of three other accused.
He was arrested on September 3 by the Enforcement Directorate (ED). The issue related to an amount of Rs 8.5 cr being found at his residence in New Delhi two years ago.
When the ED had issued summons to him in relation to the case for the first time, he had approached the Karnataka high court seeking its quashing. But the high court refused to quash it, paving way for the ED to reissue summons to him. Though he appeared before the ED, he was arrested three days later, as the ED felt a custodial interrogation was necessary.
As he was granted bail by the Delhi high court, the ED approached the Supreme Court, but the Supreme Court ruled in his favour. 
"The petition seems to be cut, copy and paste from the petition against P Chidambaram. Shivakumar is referred to as the former Home Minister. This is not the way to treat citizens", Justice Nariman had said. 
Last Updated Dec 2, 2019, 3:02 PM IST