Karnataka Congress MLC bats for permission to allow Eid congregation amid lockdown, faces backlash
Karnataka Congress MLC CM Ibrahim has urged chief minister Yediyurappa to allow Eid congregation by lifting restrictions on gathering at mosques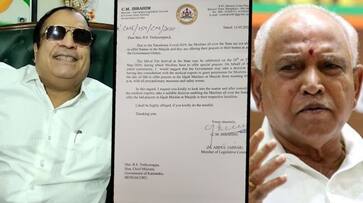 Bengaluru: With the coronavirus-induced lockdown, Eid celebrations and congregations across the world have been stalled. However, Karnataka Congress leader and MLC CM Ibrahim has written a letter to chief minister BS Yediyurappa, urging him to lift restrictions on gatherings at mosques for namaz on the occasion of Eid, which is scheduled to be observed on May 24 or 25. 
The festival usually witnesses congregational prayers at Idgah Maidan or Masjid since early morning. 
In an attempt to appease people in the name of religion, the Congress leader has urged the CM to allow assemblies till 1 in the afternoon on the day of Eid.
"Due to the pandemic COVID-19, Muslims all over the state are not able to offer Namaz in the Masjids and they are offering prayers at their homes as per government orders. The Eid-ul-Fitr festival in the state may be celebrated on May 24th or 25th, during which Muslims have to offer special prayers," he said in the letter.
"I would suggest that the government may take a decision after due consultation with medical experts to grant permission for Muslims on the day of Eid to offer prayers at Idgah Maidans or Masjids from morning till 1 pm with all precautionary measures and safety norms."
"I request you kindly to look into the matter after consulting medical experts, and then take a suitable decision enabling Muslims all over the state to offer prayers in their respective localities," he further wrote.
A letter to the chief minister at a time when the spread of coronavirus is rampant across the country has raised the shackles of many.
BJP leader Malavika Avinash reacted to the issue and said this is indeed unfortunate that a leader has written such a letter when he had to insist on practicing social distancing and celebrating at home. 
"
Meanwhile, Congress leader Rizwan Arshad too reacted and said that CM Ibrahim's letter will have no impact as the Muslim community has voluntarily closed down mosques owing to the lockdown and Ibrahim is self-centered and is just seeking attention. 
"
Many are seeing it as a ploy to appease the Muslim community and nothing else.
When CM Ibrahim was questioned as to why he shot the letter to chief minister Yediyurappa seeking permission for congregation on Eid, he had a blatant reply. He said, when wine stores can open, why can't churches, mosques or temples open. 
The Darul Uloom Firangi Mahal has issued a fatwa saying Eid prayers should be offered from homes if lockdown does get extended beyond May 17. It has further urged Muslims to avoid hugs and handshakes except with family members.
Now that the lockdown will be extended beyond May 17, congregations must be avoided to curb the spread of coronavirus and also maintain the success of lockdown. 
Last Updated May 14, 2020, 4:51 PM IST