Karnataka bypolls: Dissent in Congress camp comes to fore
Congress enters bypolls in Karnataka as a divided house. Differences among G Parameshwara and Siddaramaiah comes to the fore as the former takes a dig at the latter over Anna Bhagya scheme.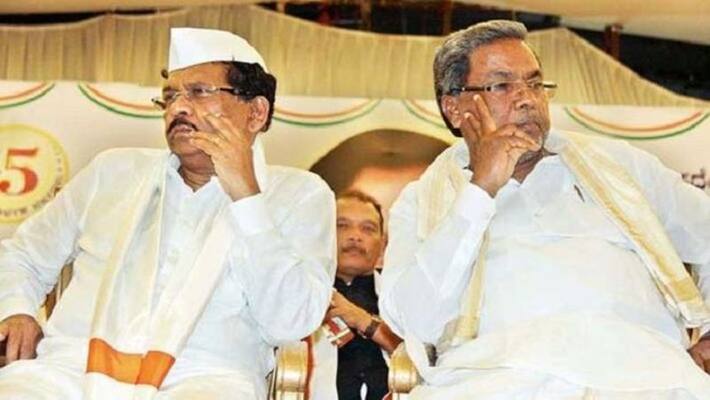 Bengaluru: If there is a simmering rebellion in the BJP, there is a non-cooperation movement brewing in the Congress. And most of the senior leaders have joined it. 
Former deputy chief minister G Parameshwara on Tuesday pitched for "collective leadership" in Congress, a party in which senior leaders are upset because, they say, decision-making is vested with one faction. 
"The bypolls are coming. The Congress can definitely win all the seats if we face the bypolls under a collective leadership," Parameshwara said while speaking at an event to commemorate Indira Gandhi's 102nd birth anniversary. 
He also repeatedly stressed that it was Indira Gandhi's anti-poverty moves that allowed governments to dole out free rice.
This remark was seen as directed towards his adversary Siddaramaiah, who launched the Anna Bhagya scheme when the party was in power.
"Some people are talking about doling out free rice for the poor but they should know that this scheme was started by then Prime Minister Indira Gandhi. It was Indira Gandhi's 'Garibi Hatao' scheme that first doled out free rice for the poor. She fed the poor across the country. But a few leaders now talk about doling out free rice during their tenure." 
When opposition leader Siddaramaiah and his confidante state Congress president Dinesh Gundu Rao drew up the first list of eight candidates for the bypolls, without consulting other senior Congress leaders, it set the tone for things to come. The selection of the second round of seven candidates was similar, with many senior leaders left out of the deliberations. 
As bypolls near, the Congress is going to battle with an indifferent set of senior leaders who are not campaigning actively and collectively. They will put in a token appearance, to send home the message that since these decisions were unilateral, they prefer to stay out of it. This means only Siddaramaiah and Gundu Rao will be left to fight on the ground. 
Last Updated Nov 20, 2019, 1:00 PM IST