Karnataka bypoll: Milk abhisheka for BJP rebel candidate Kaviraj Urs
Supporters performed milk abhisheka on Kaviraj Urs, the rebel candidate for assembly bypoll from Vijayanagar constituency in Hosapete on Monday.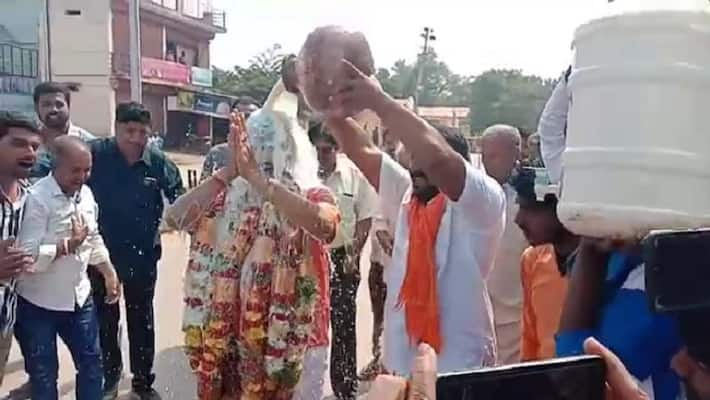 Hosapete: Supporters of BJP rebel Kaviraj Urs, who filed his nomination papers as an independent candidate for Assembly bypoll from Vijayanagar constituency on Monday, performed milk abhisheka on their leader.
Kaviraj who has been sulking about BJP giving a ticket to disqualified Congress MLA Anand Singh, decided to contest the upcoming bypolls independently and submitted his nomination papers to the election officer on Monday - the last day of filing of nominations.
Supporters greeted Urs with garlands and poured 101 litres of milk on him. Speaking to the reporters, Urs said, "The BJP has done injustice to me and many loyalists. It is not fair to field a turncoat when many loyal workers were aspiring for the ticket. The party workers wanted me to contest. Hence, I have filed my nomination. I will not withdraw my nomination papers at any cost."
A host of leaders, including Health Minister B Sriramulu, BJP state general secretary Ravi Kumar tried to placate the sulking leader. But Urs held his ground firm and is firm on contesting bypolls as an independent candidate.
Kaviraj Urs' decision mirrors the sentiments of a section of workers and ticket aspirants, who alleged that they were ignored, in a bid to accommodate the disqualified MLAs, who had helped the BJP bring down the HD Kumaraswamy's coalition government.
Even as the 17 disqualified MLAs including 14 from Congress and 3 from the JD(S) heaved a sigh of relief after the Supreme Court allowed them to contest the assembly bypolls in Karnataka, some sections of the BJP state unit are unhappy about their induction into the party.
Another BJP rebel leader Sharath Bache Gowda, son of BJP MP BN Bache Gowda from Chikballapura, filed his nomination as an independent candidate as well after the BJP declined him a ticket.
He had said that if MTB Nagaraj, one of the disqualified MLAs is given the BJP ticket, he will contest as an independent candidate from Hoskote constituency.  
 
Last Updated Nov 19, 2019, 11:38 AM IST