Karnataka by-polls: Here's how admirers showed their love for their leaders as they filed nominations
As candidates in the constituencies went to file their nominations, their well-wishers and admirers did not miss out on an opportunity to showcase their loyalty to them. Here's how!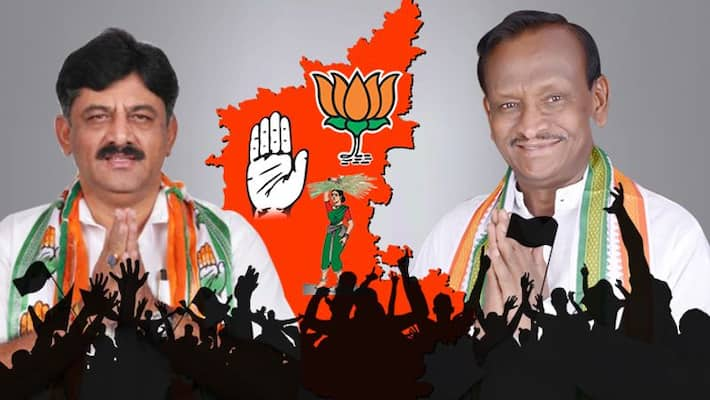 Bengaluru: November 18 was the last day to file nominations. While the candidates filed their nominations, their admirers and well-wishers did not miss out on an opportunity to showcase their love and loyalty for their leaders. 
In Chikkaballapura, a huge garland of apples was kept ready for DK Shivakumar, the Congressman who was supposed to arrive in the city to accompany Congress candidate Anjanappa file his nominations. However, as the leader was late in turning up, the honours were done for Anjanappa himself! 
But the story did not end there! As the candidate was garlanded and he removed it, people who had gathered there ran to snatch the apples and devour them! 
In Hoskote, where disqualified MLA MTB Nagaraj is contesting on a BJP ticket, none other than CM BS Yediyurappa himself was in attendance. While the leaders were busy in campaigning, an admirer of MTB Nagaraj stabbed himself with a knife. When others who tried to help him out, he in turn, shouted back at them! 
R Shankar, who missed out on a BJP ticket from Ranebennur, was also present in the constituency when the BJP candidate Arun Kumar went to file his nominations. One of his admirers saw Shankar in the vehicle. And the moment he saw him, he could not control his tears! The others present there pacified him later. 
Another Independent candidate Kaviraj Urs, contesting against BJP's Anand Singh in Vijayanagara filed his nominations. And as he returned, little did he know that he would be anointed with milk!
As strange as it may sound, a fan who was waiting for him to return poured milk on him!  
H Vishwanath, another disqualified MLA is contesting on a BJP ticket from Hunsur. Customarily, he visited temples and mosques and even Ayyappa devotees before he filed his nominations. 
While cameras caught him in a devout mood, they also did not miss out on how Vishwanath gave Rs 200 to the priest under the plate which had wicks and Kumkum on it, in a furtive manner. Not just that, as he walked out and met Ayyappa devotees, he became conscious and entrusted the job of handing over the money to them to his trusted lieutenants.  
 
Last Updated Nov 19, 2019, 10:16 AM IST