Karnataka by-polls: Cases booked against political leaders for violation of model code of conduct
Chief minister Yediyurappa, Siddaramaiah and minister Sriramulu have been booked for violation of model code of conduct in Haveri district as they tried to lure voters with their speeches.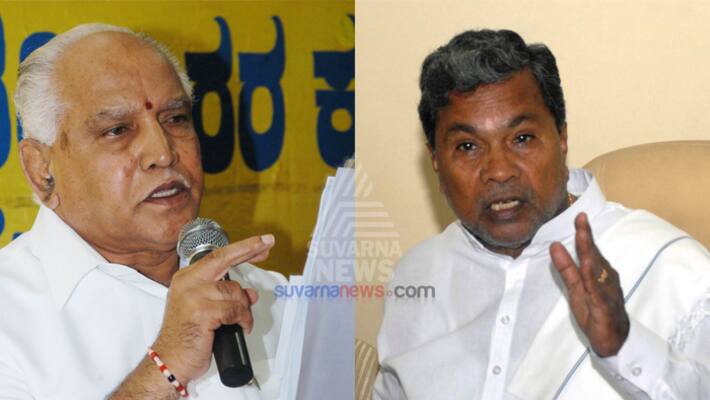 Haveri: With the campaigning for by-polls ending on Tuesday (December 3), as many as six cases of violation of model code of conduct was booked in Haveri district. These include cases against chief minister BS Yediyurappa, opposition leader Siddaramaiah and health minister B Sriramulu. Addressing reporters on Tuesday, the DC said that the election flying squad had complained that in the campaigns held at Ranebennur and Hirekerur Assembly constituencies, the candidates had tried to lure the voters.
"During by-poll campaigning in Hirekerur and Ranebennur constituencies, these leaders tried to influence the voters with their speech. We have two complaints in hand now and both the complaints will be examined, and a report will be submitted to the Election Commission," said DC Krishna Bajpai.
Chief minister BS Yediyurappa was booked for assuring the voters that If the BJP came to power, they would make Rattihalli constituency into a model constituency by ensuring more grants. He also reportedly said that R Shankar would be given an MLC post.
However, the chief minister had not clearly stated the amount of grants that will be provided. Further action will be initiated after seeking legal opinion and no FIR has been filed, Krishna added. 
A complaint had been booked against leader of opposition Siddaramaiah for his speech at the Hirekerur constituency, He had stated that "Bombay Note, Bannikodage Vote". This translates to a phrase to the effect of seeking votes for money.
Also, a case has been booked against health minister Sriramulu, for his speech at Kumarapatanam, where he promised to announce 7.5% reservation for the members of the Scheduled Caste if BJP is voted to power in the constituency.
All 15 assembly constituencies will go to polls tomorrow (December 5) and the results will be announced on December 9 (Monday).
Last Updated Dec 4, 2019, 11:56 AM IST