Karnataka by-polls: Bridegroom casts his vote in Gokak while agents create ruckus in Chikkaballapura
The first hour of voting in the Karnataka by-polls saw many candidates exercise their franchise. Interestingly, a bridegroom also cast his vote from Gokak, before heading to Goa to take part in his marriage.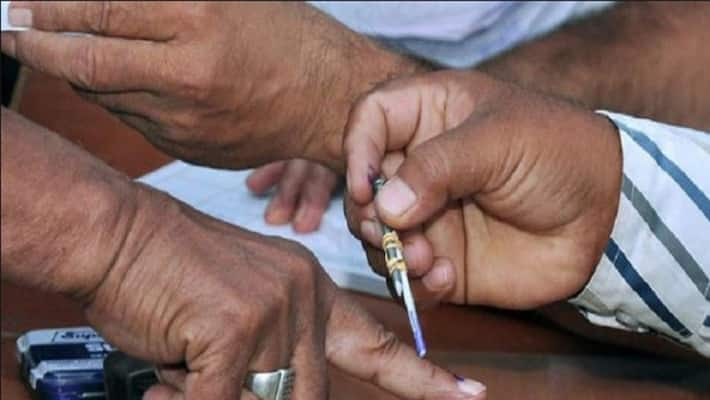 Bengaluru: Today (December 5) is an important day in Karnataka politics as 15 constituencies have gone for by-polls.
When latest news reports trickled in, Mahesh Kummatahalli, the BJP candidate from Athani and his wife cast their votes.
Similarly, Gopalaiah, the BJP candidate from Mahalakshmi Layout and his wife cast their votes.
Saravana, the BJP candidate from Shivajinagar, and his wife cast their votes.
Byrati Basavaraj, BJP's candidate from KR Puram cast his vote along with his wife at Medahalli.
Chamarajapet MLA Zameer Ahmed cast his vote in Shivajinagar.  
Ruckus was reported from Chikkaballapura booth number 163 as agents played spoilsport. As booth agents arrived late, they asked the booth authorities as to why the voting process began without their presence. So the electoral officer present there warned them not to create any sort of ruckus.
Interestingly, a bridegroom cast his vote in the Gokak constituency. He has been identified as Ija. His marriage is supposed to take place in Goa this afternoon. He left immediately after exercising his franchise.
Now, as you all might be aware, these by-polls were necessitated because as many as 17 MLAs from the Congress and the JD(S) resigned as MLAs.
But the then Speaker Ramesh Kumar disqualified them and even set a term till the end of 2023. Though the Supreme Court upheld the disqualification, it refused to accept the term set by Ramesh Kumar and paved the way for the 17 disqualified MLAs to contest the elections.
By-elections in two assembly segments -- Muski (Raichur district) and R.R. Nagar (Bengaluru) have been withheld due to litigation in the Karnataka High Court over their results in the May 2018 stare assembly elections.
There are as many as 165 candidates, including 126 Independents and 9 women are in the fray for the 15 assembly seats.
The BJP and the opposition Congress are contesting in all the 15 assembly seats, while the JD-S has fielded candidates in 12 seats.
The BJP has fielded 11 former rebel Congress and 3 former rebel JD-S legislators who joined the party on November 14 after the Supreme Court on November 13 allowed them to re-contest though it upheld their disqualification by then Assembly Speaker KR Ramesh Kumar.
Last Updated Dec 5, 2019, 8:10 AM IST