Karnataka by-election: Congress, BJP in rat race for ticket to Shivajinagar

With dates for by-polls fixed for 15 Assembly segments in Karnataka, leaders from both Congress and BJP are running behind party leaders to obtain a ticket to contest from Shivajinagar Assembly. Congress frontrunner and three-time corporator AR Zakir, MLA Rizwan Arshad met KC Venugopal in Delhi while R Roshan Baig met DV Sadananda Gowda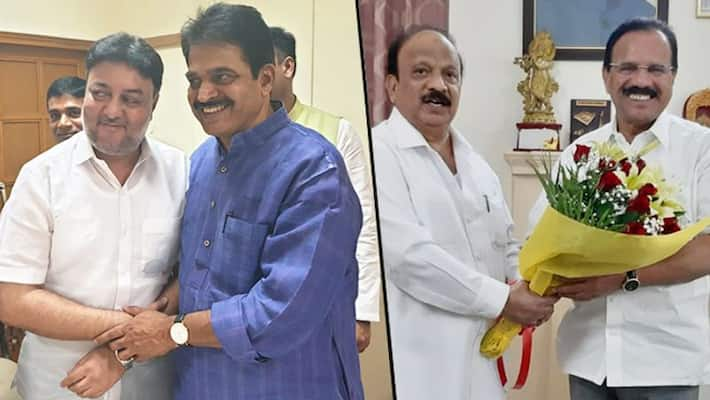 As dates for by-elections to 15 Assembly segments nears, leaders from prestigious Assembly segment Shivajinagar are running behind party leaders of the Congress and BJP to impress them and obtain a ticket.
Congress aspirant AR Zakir, Rizwan Arshad, BR Naidu met AICC general secretary KC Venugopal, and disqualified MLA from Shivajinagar Roshan Baig met DV Sadananda Gowda to impress them and obtain a ticket.
The Congress announced tickets to 10 Assembly segments earlier and withheld names of candidates for the remaining five and Shivajinagar was one among them. It is believed that a victory in Shivajinagar Assembly is a stamp of authority over Vidhana Soudha as it comes under the Shivajinagar segment.
Speaking to Asianet Newsable, AR Zakir said, "I and a few other aspirants met KC Venugopal ji and regardless of who gets the ticket, others will coordinate to ensure Congress wins and I am confident that the party will bless me as I am a known and have a clean image. The party has delayed the  announcement of the candidate as the decision of disqualified MLAs is pending."
Roshan Baig hopes that the BJP will either give him a ticket or make his son the official candidate in case the Supreme Court verdict is either further delayed or goes against disqualified MLAs. He said he was in Delhi to meet BJP leaders and others to ensure peace is not disturbed and law and order remains normal as the Ayodhya verdict is expected to be out soon.
"I came and met DV Sadananda Gowda and Suresh Angadi and appealed that peace in Karnataka should not be disturbed. The decision to give me a ticket or to my son is left to the party. In case that situation arises where my son has to contest, I will appeal to leaders to accommodate him." said Roshan Baig.
Last Updated Nov 7, 2019, 4:40 PM IST