Karnataka: BJP's SM Krishna lauds 17 disqualified MLAs for doing 'great service'
Former Karnataka CM SM Krishna has eulogised the 17 disqualified MLAs of the Congress and JD(S) saying they have done a great service to the state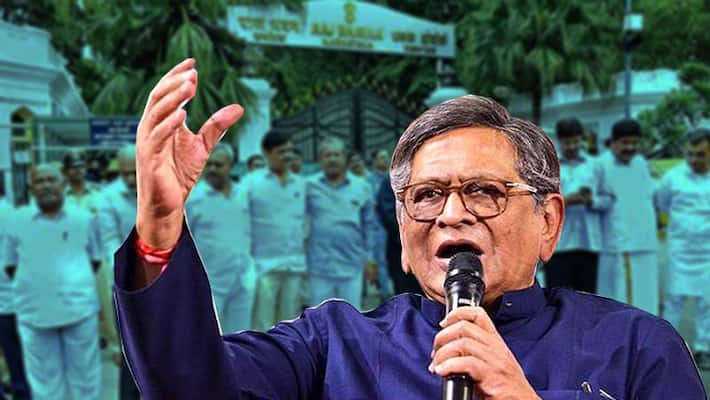 Bengaluru: It might sound strange to many, but former Karnataka CM SM Krishna, who joined the BJP two years ago, has thrown his weight behind the seventeen disqualified MLAs.  
He said, "All these disqualified MLAs have done a great service to the state. The coalition government had no aims or objectives. It was in a chaos. It went on for 14 months. We had to endure them for some more time. Most of the people in the state had voted for BJP in the last year Assembly elections. They gave us 105 seats. We needed 113. But we could not manage."
He further added, "Seventeen MLAs have suffered badly in the coalition government. Therefore, decided to call it quits." 
The Congress, on the other hand, is in no mood to buy his theory, adding SM Krishna, too, was a defector. 
Kengal Renu, a Congress spokesperson says, "SM Krishna too was in the Congress. It was the Congress who made him the chief minister, the external affairs minister and also the Governor of Maharashtra. In simple words, he too has done what the others have done. Now that he is a part of the BJP, he has no choice but to support their move. But there is no merit in whatever he is saying." 
Earlier this year, as many as 17 disgruntled elements of the Congress and JD(S) decided bid goodbye to their parties. As soon as they tendered their resignations, the then Speaker Ramesh Kumar refused to accept them and disqualified them, by setting a term till 2023. 
However, these disqualified elements approached the Supreme Court, which after a patient hearing, decided to uphold the disqualification order of the then Speaker, but set aside his order on setting a term till the end of 2023. 
Out of the 17 disqualified MLAs, 15 are now contesting by-polls on BJP tickets. The by-polls will be held on December 5. 
Last Updated Dec 3, 2019, 3:47 PM IST