Karnataka: BJP nominates businessman K Narayan to Rajya Sabha
The Bharatiya Janata Party (BJP) on Tuesday announced the name of K Narayan, a well-known businessman in Karnataka, as party's Rajya Sabha candidate for the vacancy created by the death of Ashok Gasti, who had succumbed to COVID-19 in September.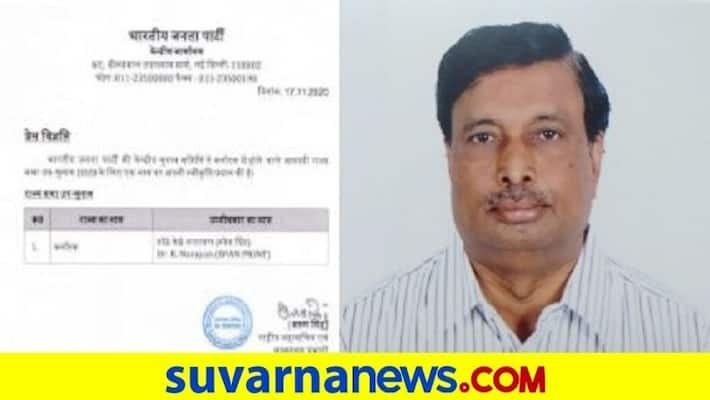 Bengaluru: The ruling Bharatiya Janata Party (BJP) in Karnataka Tuesday nominated K Narayan, a businessman, for the bypoll scheduled to be held on December 1.
The seat had fallen vacant after first-time Rajya Sabha MP Ashok Gasti succumbed to COVID-19 in Bengaluru in September.
Tuesday was the last day for the filing of nominations, and if required, the polls would be held on December 1.
Also read: Karnataka CM BS Yediyurappa to visit Delhi; Discussion on cabinet expansion likely
Confirming the announcement, Chief Minister BS Yediyurappa tweeted, "Dr K Narayan has been picked as the party nominee to fill the Rajya Sabha seat from Karnataka. Heartfelt congratulations to him."
K Narayan, who was born and brought up in Mangaluru belongs to the Devanga community, identified among other backward-class communities in the state.
Narayan is an established publisher of magazines and newspapers. A staunch RSS follower, Narayan also publishes a monthly magazine in Sanskrit, for the last 25 years and edits a Tulu paper.
Last Updated Nov 18, 2020, 9:02 AM IST