Karnataka BJP MP likely to don the role of principal secretary of BJP national youth wing
Reports are rife that Bengaluru South MP Tejasvi Surya may soon be appointed to the post of general secretary of the national youth wing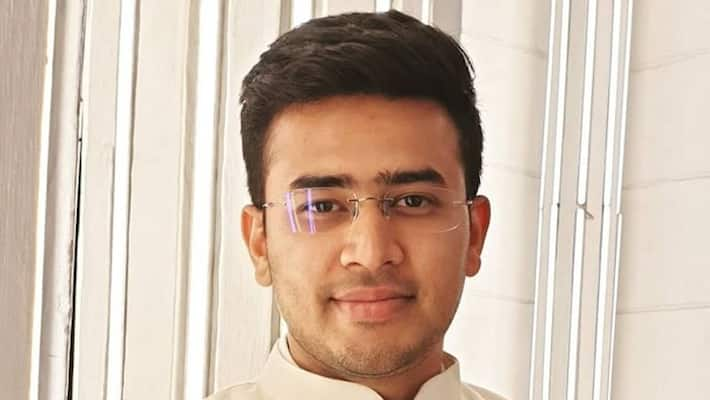 Bengaluru: The youngest BJP MP from Bengaluru South Lok Sabha constituency, Tejasvi Surya grabbed the attention of the nation as he defeated Congress veteran BK Hariprasad by a margin of 3.31 lakh votes.
A Karnataka high court lawyer by profession, Tejasvi Surya assumed charge at the age 28 years and is a RSS Swayamsevak. Now, the BJP think tank has been debating whether to bring him into national political fray and give him a prominent place in the BJP's national youth wing.
According to sources, the party is said to be seriously thinking of giving Tejasvi Surya a national leader role and is attempting to appoint him as the general secretary of the national youth wing.
Reports are rife that Tejasvi Surya is also being proposed to be given the role of president of Karnataka state youth wing. However, the young leader himself is not ready to accept any role saying that he doesn't want any status in the state unit and hence has asked the party to keep him out of it.
Thus, it is being said that the national unit is examining the status quo over his role in the BJP national youth wing.
Tejasvi Surya was recently criticised for his comments at a rally in support of the Citizenship law where he had said only "puncture-wallahs" and the illiterate were opposing it.
"Those working in Bangaluru's IT and BT sectors - lawyers, IT professionals - those contributing to development, regular daily workers, rickshaw drivers are all here standing together at this rally. But these illiterates - if you cut open their chest, you can't find two words inside them - just like puncture-wallahs - are the only ones opposing this law," Tejasvi Surya had said at the rally in support of the CAA.
The 29-year-old was accused by critics of using a slur for Muslims and the underprivileged.
Last Updated Jan 6, 2020, 1:43 PM IST