Karnataka BJP gets a boost as 16 disqualified MLAs join the party
After the Supreme Court made it clear that the 17 disqualified Karnataka MLAs could contest the by-polls, 16 of them joined the BJP today (November 14)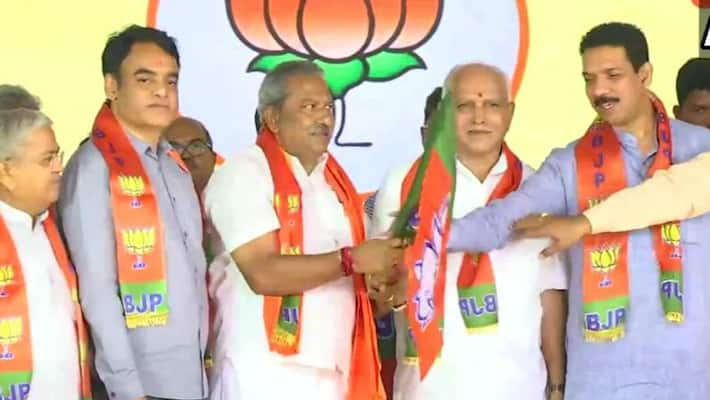 Bengaluru: In what comes as a boost to the ruling BJP in Karnataka, 16 disqualified MLAs of Congress and JD(S) joined the party formally at a function held at the BJP office in Bengaluru. 
CM BS Yediyurappa, state BJP incharge Muralidhar Rao and state president Nalin Kumar Kateel were also in attendance. 
The CM welcomed the members into the party. He also promised them of all possible help in the upcoming by-polls and urged the party workers to ensure their victory. 
Roshan Baig, a former Congress MLA, who was slated to join the BJP, did not turn up. Incidentally, he is also an accused in the IMA scam. 
On the occasion of joining the Congress, H Vishwanath, former MLA from Hunsur made it clear that he and the other disqualified MLAs had not resigned, thirsting after power. 
He said, "We have not given up our positions to get more power. We want to stand shoulder-to-shoulder with CM Yediyurappa and work for the people of the state. We also want to help PM Modi in bettering the lives of our citizens." 
On Wednesday, the top court upheld the disqualification of these MLAs while it set aside the term of disqualification assigned by former Speaker Ramesh Kumar, thereby paving way for these disqualified MLAs to contest the by-polls, to be held on December 5. 
Some of these disqualified MLAs had also met BL Santosh Kumar, a national organising secretary hours after the meeting in relation to joining the party. Even BJP president Amit Shah had a meeting to discuss the developments. 
The top court, in its verdict had observed that the Speaker had gone beyond his jurisdiction in assigning the term of disqualification. The top court had also held that political morality could not stymie constitutional morality. 
After the induction into the party, the disqualified MLAs left for their constituencies. 
Last Updated Nov 14, 2019, 1:41 PM IST