Karnataka and Goa governments hail PM Modi's Rs 20 lakh crore stimulus package to revive economy
Karnataka deputy chief minister CN Ashwath Narayan and Goa chief minister Pramod Sawant thanked PM Modi for announcing the much-awaited economic package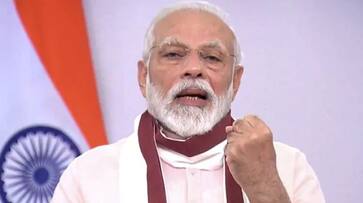 Bengaluru: Prime Minister Narendra Modi announced a much-awaited stimulus package worth Rs 20 lakh or about 10% of the country's gross domestic product (GDP) to restart the economy and also make India self-reliant in the wake of COVID-19 pandemic . 
He pitched for promoting local businesses, as he flagged that the deadly virus may be part of our lives for a long time.
The details of the package are to be unveiled by finance minister Nirmala Sitharaman over the next few days. Modi also indicated that the nationwide lockdown, first enforced on March 24 and extended twice since, would again be extended — beyond May 17. But "lockdown 4.0 would be very different from what we have seen so far".
PM's drastic step to revive the economy was hailed by leaders across the country. 
Karnataka deputy chief minister CN Ashwath Narayan heartily welcomed the special package to help the farmers, labourers, migrants and cottage industry, micro, small and medium enterprises (MSMEs) and middle class.  
Meanwhile, Goa chief minister Pramod Sawant said, "I think the economic package of Rs 20 trillion that has been announced by PM Modi will increase economic activities across the country. I would like to thank him on behalf of the people of Goa." 
Meanwhile, the number of coronavirus cases in the country has surged past 74,000-mark while the death toll is now at 2,380. 
Union health minister Harsh Vardhan, on Tuesday, said that the coronavirus recovery rate in India was getting better. 
"Recovery rate of coronavirus cases is improving. It is 31.7% currently," said Harsh Vardhan.
He added that the mortality rate in India is one of the lowest in the world. "In the fight against COVID-19 our mortality rate is about the lowest in the world. Today (Tuesday) the mortality rate is around 3.2%, in several states it is even less than this. Global fatality rate is around 7-7.5%," he said.
Health minister also noted that the number of days in which coronavirus cases were doubling in the country. 14 days ago, the doubling rate was 10.9 days, but now, the same has come to 12.2 days.
Last Updated May 13, 2020, 10:32 AM IST