Kandala Bank Fraud Case: CPI expels party leader N Bhasurangan over alleged financial irregularities
The Communist Party of India( CPI) expelled party leader and Kandala Bank President N Bhasurangan over allegations of financial misappropriations in the Kandala Bank fraud case.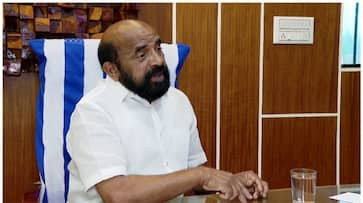 Thiruvananthapuram: The Enforcement Directorate has taken N Bhasurangan, the former president of Kandala Bank and CPI leader, into custody over 
a bank fraud case at Kandala Cooperative Bank. He was arrested over allegations of financial misappropriation totaling Rs 101 crore. Bhasurangan experienced health issues during the interrogation and was admitted to a private hospital in Thiruvananthapuram. Meanwhile, the Communist Party of India expelled Bhasurangan's list from the party on Thursday. He was the former president of Kandala Service Cooperative Bank and Milma's Thiruvananthapuram Region Union Administrator Convenor.
The decision to expel Bhasurangan from the party was taken in the district executive meeting held today. The CPI, which has not taken any action for a long time, has now expelled Bhasurangan from the party over allegations of financial irregularities.
The ED conducted a raid at Kandala Bank and the residence of bank secretaries Shantakumari Rajendran and Mohan Chandran on Wednesday. The ED team examined the transaction documents, including deposits and loans, in the bank. After the inspection of Bhasurangan's house in Poojappura, he was taken to his house in Maranalloor. He was taken to various locations for interrogation, including his current residence, Kandala Bank, and former secretaries's houses. During the interrogation at his home in Maranalloor, he felt unwell. He was first taken to Kandala Hospital. Later, as per the doctor's recommendation, he was shifted to KIMS hospital. The ED has conducted an investigation on his residence and his son's restaurant in Poojappura.
An inspection took place at six locations, including the bank and the residences of bank secretaries.  Asianet News exposed these irregularities, revealing the alleged misconduct during Bhasuragan's 30-year tenure as the president of Kandala Co-operative Bank. Subsequently, the board of directors resigned, and the bank came under administrative administration. The cooperative registrar handed over the investigation report concerning the Kandala bank fraud to the Enforcement Directorate (ED) two weeks ago. Meanwhile, the ED inspection at Kandala Bank has passed 24 hours. 
Last Updated Nov 9, 2023, 11:24 AM IST