Jodihakki fame actress to act alongside Para swimmer Vishwas
Director Rajkumar is all set to try his hand at making a biography on para swimmer Vishwas, Jodihakki fame Chaitra to be roped in as well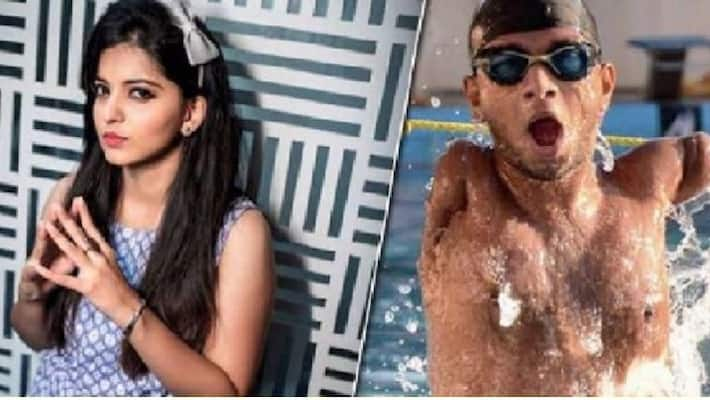 Bengaluru: Most commercially successful films have the same mantra – good looking actors or good money. A hero must be good looking or must have or should have enough money backing to produce his own movie. But director Rajkumar thinks otherwise.
Director Rajkumar believes sheer talent and hard work will bring him success and a real life story has inspired him to make a movie.
KS Vishwas, a para swimmer of international fame has caught the attention of Kannada film director Rajkumar. Vishwas has made a name for himself not just in swimming but has also participated in dance reality shows and gained popularity. Vishwas is also a trained dancer.
29-year-old Vishwas participated in swimming competitions in Canada and Germany and won accolades for India. Vishwas has won gold and bronze in Canada and Germany respectively.
In an unfortunate accident, Vishwas lost both his hands at the age of 10. He apparently fell on a high tension wire and was in coma for over two months. Both his hands were electrocuted and amputated. His father saved him from being completely electrocuted but lost his own life. Vishwas was then rushed to a hospital. Vishwas considered his mother a role model and always drew inspiration from her. However, his mother passed away in 2009. Years of extensive training and never-dying hope led Vishwas on the road to become a professional swimmer. Vishwas' dream is to take part in 2020 Tokyo Olympics and make his country even prouder.
Rajkumar has directed about 15 movies and has now named this movie 'Arabi'.  Jodihakki fame Chaitra has been roped as the lead actress and will be seen playing an important role in the movie.  
Director Rajkumar is sure that Vishwas' talent and 'never give up' attitude will serve as an inspiration to many who fail to achieve something in life and this movie will be a success. 
Last Updated Nov 7, 2019, 3:50 PM IST