I-T raids 22 properties linked to Lalu Prasad on charges of benami land deals
A team of about 100 tax department officials and police personnel are conducting the raids on at some premises in Delhi connected to RJD chief Lalu Prasad Yadav
Misa, Lalu's daughter recently purchased 7 acres of land worth Rs 100 crores for just about Rs 1.4 crore through mysterious business entities
Union minister Ravi Shankar Prasad had alleged that these transactions are illegal and Lalu should be booked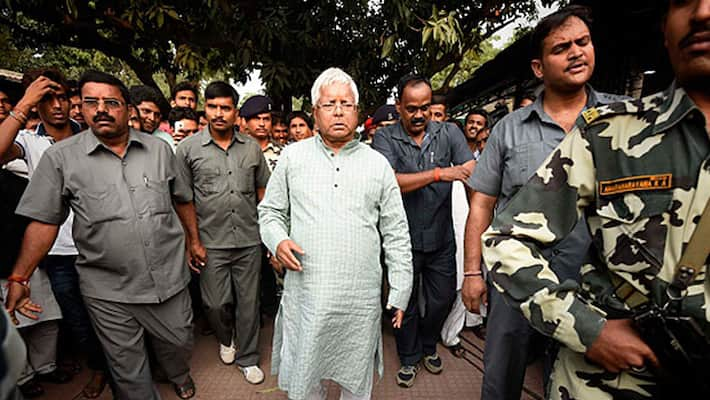 The Income Tax department on Tuesday, conducted raids and surveys on at least 22 locations in Delhi and adjoining areas on charges of alleged benami deals worth Rs 1,000 crore linked to RJD chief Lalu Prasad and others.
Officials said the department began raiding the premises of some prominent businessmen and real estate agents in Delhi, Gurgaon, Rewari and few others since early morning. The searches are also being conducted at the premises of the son of RJD MP P C Gupta and few other businessmen.
While raids are being conducted at a dozen locations, ten other official premises are being surveyed by the I-T department, they said. "People and businessmen connected to the land deal involving Lalu Prasad and his family are being searched. There are allegations of benami deals worth about Rs 1,000 crore and subsequent tax evasion," a senior official said.
Also read: Revival of Fodder Scam case: Is this the end for Lalu, Bihar alliance?
A team of about 100 tax department officials and police personnel are conducting the raids, they said. The BJP had last week accused Prasad, his MP-daughter Misa Bharti and his two sons, both Bihar government ministers, of being involved in corrupt land deals worth over Rs 1,000 crore, and asked the central government to probe one such transaction in Delhi.
In the beginning of this month only Lalu got a rude jolt in the form of Republic broadcasting his conversation with Mohammed Sohrabuddin and now a few weeks later the needle has shifted to his land deals.
Misa recently purchased 7 acres of land worth Rs 100 crores for just about  Rs 1.4 crore through mysterious business entities and her personal wealth and professional salary do not allow for such exorbitant purchases. Times Now reported how Yadav's daughter made a lot of profit after buying land at such throwaway prices. The report said that the land deals consisted of farmhouses which were in places like Bijwasan, near IGI airport, Sainik Farms. Meanwhile, BJP has urged the Election Commission to act against MP Misha on grounds that she had not declared her assets in the election affidavit.
Union minister Ravi Shankar Prasad had alleged that these transactions were a case of "quid pro quo" as they date back to the period when Lalu Prasad was the railway minister, and dared Bihar Chief Minister Nitish Kumar to take action against him.
Lalu's RJD is a constituent of Bihar's ruling coalition led by Kumar. His sons Tejashwi Yadav and Tej Pratap Yadav are ministers in the government. Lalu's official residence was the address of the owners of the firms allegedly floated by his family members, Ravi Shankar Prasad had said.
with PTI inputs
Last Updated Mar 31, 2018, 6:51 PM IST