IT raid in Bengaluru: Karnataka BJP leader alleges links with Congress
Former BJP minister KS Eshwarappa alleges a Congress link to the Rs 42 crore seized during an Income Tax raid in Bengaluru, implying it was meant for the All India Congress Committee. Other leaders seek an investigation into the money's origin and purpose.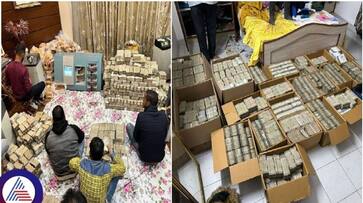 Former BJP minister KS Eshwarappa has alleged a connection between the Congress and the seized money during the recent Income Tax raid at the contractor's house in Bengaluru. During the operation, they seized a significant sum of Rs 42 crore.
In response to questions from the media, he suggested that Siddaramaiah and DK had not condemned the IT raid because the money was intended for the All India Congress Committee (AICC).

Late-night IT raid in Bengaluru: Officials uncover crores in cash
Eshwarappa called for a comprehensive investigation into the 42 crore rupees discovered, raising questions about whether it was linked to Siddaramaiah and DK. He also highlighted the close relationship between contractors and Congress members, referring to them as being like "siblings" and suggested that this money might have been intended for elections in five states.
BJP MLA Yatnal demands details about seized amount's source
MLA Basavanagowda Patil Yatnal, who expressed concerns about the source of this money, raised questions regarding various aspects of this issue: He demanded details about the contractors who had received a grant of Rs 650 crore from BBMP, sought to understand the allocation percentage of the grant, and questioned why this money was intended for transfer from Tamil Nadu to Telangana. 
Additionally, Yatnal inquired if this transfer was related to an election and called for information regarding the 23 contractors allegedly involved in this financial matter. He also criticized Kempanna and Company for their lack of information on the issue.

IT raids in Bengaluru since early morning, tax sleuths at 15 locations
Yatnal criticized the Congress government through social media, accusing them of conducting a "Congress Collection Fair" in Karnataka and allocating funds to various states. He called for an investigation to determine the ownership of the seized money.
The raid on former corporator Ashwathamma's husband Ambikapati's daughter's house was conducted by Income Tax officials and revealed a substantial sum of Rs 42 crore. Questions remain regarding the origins of this money and whether it was collected on behalf of any particular individuals or entities.
Last Updated Oct 13, 2023, 4:29 PM IST