Israel visit: 7 interesting stories that emerged from Modi-Netanyahu's meet
Modi's visit is aimed at commemorating 25 years of establishment of diplomatic ties between the two countries
It is believed that Modi's visit would further solidify security ties
A lot of interesting stories and events took place on this trip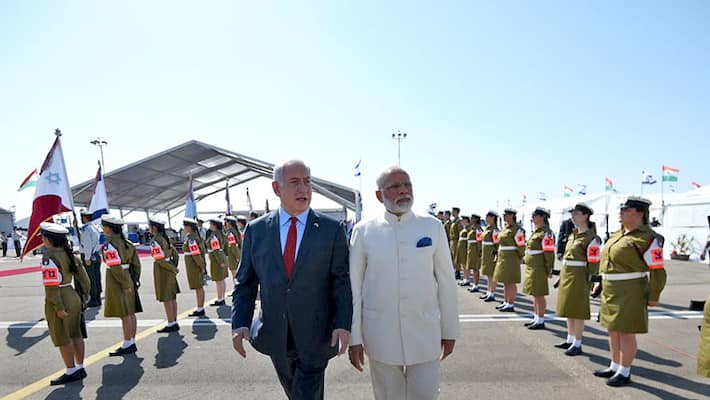 Prime Minister Benjamin Netanyahu has hailed his Indian counterpart Narendra Modi's visit to Israel, the first by an Indian premier, as a "very significant step" in strengthening bilateral relations that are on a "constant upswing". The trip began on July 4. Here are some interesting tidbits from the sidelines of Modi's Israel trip
Did you know?
"Wake up: the most important PM of the world is coming", is how Prime Minister Narendra Modis forthcoming visit to Israel, the first by an Indian premier, is described in an article in one of the leading Israeli business dailies.
The I-factor
Modi's description of India-Israel relations : "...today it is 'I to I and I for I'. When 'I say I for I, I don't mean the popular saying but what I mean is India with Israel, India for Israel".
India's great moment
Prime Minister Narendra Modi, during the visit called on Israeli President Reuven Rivlin and discussed ways to strengthen bilateral ties, but what excited him most was : "The President of Israel welcomed me so warmly, he broke protocol. This is a mark of respect for the people of India."
Flower power
A new fast-growing Israeli flower was on July 4 named after Prime Minister Narendra Modi  in a special gesture to mark the first visit of an Indian premier to the Jewish nation. Israeli Chrysanthemum flower will now be called "MODI", officials said.
Safety for PM Modi
The Prime Minister Narendra Modi stayed in one of the most secure hotels of the world. The iconic King David hotel played host to the PM.The  security measures were such that  even if the entire hotel was bombed, the PM's suite will be untouched and will come down in a pod. And the PM was being served Gujarati food.
Benjamin Netanyahu's India connect
As reported by NDTV, the Israeli Prime Minister had an interesting story to share when he hosted PM Modi over dinner. He recalled how he and his now wife Sara had first met at an Indian restaurant in Tel Aviv, 30 years ago.
Like Modi even Netanyahu was gushing about the meet
He called it a 'marriage really made in heaven' but seems like the Israeli Prime Minister had used this phrase with someone not so close to India as well. He had earlier spoken about China in the same glowing terms.
Last Updated Mar 31, 2018, 6:47 PM IST