Israel-Hamas conflict: India tightens norms for use of hang gliders, ones without permission may be shot down
Following a Hamas militant attack on Israel, the DGCA in India has tightened regulations on hang gliding for national security. Flying hang gliders in India now requires DGCA permission, and selling them involves background checks. Hang glider pilots must meet experience and licensing requirements, with separate criteria for commercial airline pilots. These measures come in response to security concerns following a Hamas attack that involved hang-gliders.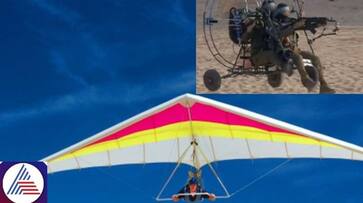 The recent Hamas militant attack on Israel, which included terrorists using hang-gliders to infiltrate the country has prompted the Directorate of Civil Aviation (DGCA) in India to take significant steps to enhance safety measures for hang-gliding activities within the nation. For the security of the country, strict rules have been implemented concerning the operation and sale of hang gliders. Under the new regulations, flying hang gliders in India without prior permission from the DGCA is strictly prohibited. 
To fly hang gliders in Indian skies, individuals must obtain approval from a DGCA-approved examiner. Unauthorized hang glider flights will be met with severe consequences, including the possibility of being shot down or having the glider impounded.

'Done by other team': US President Joe Biden backs Israeli PM on Gaza hospital attack | WATCH
Furthermore, individuals wishing to sell their private hang gliders must obtain permission from the DGCA and provide the relevant documentation. Prospective buyers of gliders are now required to secure a clearance certificate from the Union Home Ministry, which will conduct background checks on the purchaser or organization.
In addition to these measures, stringent safety requirements have been introduced for hang glider pilots. DGCA mandates that anyone operating a hang glider must have a minimum of 50 hours of flying experience with hang gliders and at least 10 hours of dual-engine flying experience. These individuals must also hold a license issued by the DGCA.
For commercial airline pilots, a minimum of 25 hours of flying experience is required to operate hang gliders. Pilots with 50 hours of experience in airline flying are also eligible to engage in hang gliding activities.

Israel-Hamas War: From Tel Aviv's quiet airport to the frontlines
What are these Hang gliders?
Hang gliders are like lightweight flying machines without engines. They let people glide in the air, usually lying down on a simple, triangle-shaped wing. A frame and a harness keep the pilot in place. To go up, down, or side to side, the pilot moves their body and uses a control bar. 
It's a thrilling way to feel like you're flying without breaking the bank. Many people enjoy hang gliding as a fun and adventurous hobby, where you can fly in the sky, often in beautiful natural places having mountain ranges.
Last Updated Oct 18, 2023, 5:15 PM IST