Israel-Hamas War: From Tel Aviv's quiet airport to the frontlines
Ajit Hanamakkanavar, Editor of Asianet Suvarna News, travelled from Tel Aviv to Sderot near the Gaza Border which stands as a witness to the horrors of October 7 when Hamas militants unleashed a bloodbath, and the retaliation unleashed by the Israeli Defence Forces. Hamas is considered a terrorist organization by several countries, including Israel, the United States, Canada, the European Union, and others.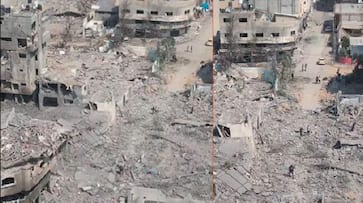 Upon landing at Tel Aviv airport, I noticed the unusual emptiness. Despite being a large and modern airport, it was notably less crowded than our Mangaluru airport. The reason for this lies in its proximity to the Gaza border. Hamas and Israel are currently engaged in a battle a mere 50 kilometres away. 
Hamas militants possess R-160 missiles, and examining a map of Israel reveals that these R-160 missiles launched by Hamas have reached the southern border of Gaza and are targeting areas like Tel Aviv and Haifa. In fact, just before my arrival, a rocket had been launched towards Ben Gurion Airport, causing the Iron Dome's sirens to blare. This led to the cancellation of flights by most airlines. Remarkably, Etihad Airlines dared to continue operations, picking up passengers in Abu Dhabi and landing them safely next to this crisis zone.

Israel-Hamas War: It's business as usual in Jerusalem amid escalating tensions
However, there is yet another reason for the emptiness at the airport: Shabbat. This is a weekly religious ritual observed with great devotion by the Jews. During Shabbat, the principle is to abstain from work completely, with a focus on rest and spirituality. It is a sacred obligation for Jews, to follow God's command. 
This practice begins every Friday with the lighting of a lamp at home, precisely eighteen minutes before sunset, and concludes with the sighting of the first three stars in the sky on Saturday. Between these times, a myriad of rules and restrictions apply to activities such as lighting fires and engaging in commercial transactions. Traders are prohibited from seeking profits during Shabbat, and even the mere thought of work is discouraged. 
Similar principles are extended to employees, who are encouraged to spend this time in prayer, connecting with relatives, enjoying wine, and engaging in marital intimacy, all of which are deemed acceptable. Work, however, is firmly forbidden during this period. 

Bengaluru: 25 detained for pro-Palestine protest at MG Road
The orthodox Jewish community upholds these rules with utmost strictness, so much so that they even have workers to switch on and off their electric appliances. The fundamental guideline is not to kindle a fire or extinguish it, and electricity is considered a form of fire. While certain exceptions exist, such as the ability to transport someone to a hospital in a life-threatening situation, three actions are absolutely prohibited, even if a life is at stake: murder, adultery, and idol worship.
I provided these details for a specific reason. It was on a Shabbat, Saturday the 14th, that I departed from Tel Aviv's Nirmanush terminal. The serenity of Shabbat contrasted with the events of the previous week when Hamas militants launched an attack on Israeli border towns and villages on the 7th. It's a day when conservative Jews refrain from handling firearms and avoid causing harm. Choosing Shabbat for their actions indicates deep planning.
Notably, Israeli technology is often insufficient to protect a particular town. Sderot, located just eighty km from the southern Gaza border, was severely affected by Hamas's ruthless attack on October 7. The town continues to face ongoing rocket attacks from Hamas, with Qassam rockets landing every fifteen seconds. 

'Beginning of the war is an intelligence error...' Israeli military intel chief owns up failure
Iron Dome, Israel's anti-rocket defence system, struggles to operate effectively in this area. As a result, Sderot's population of 30,000 has evacuated the town. It was once a picturesque town with Vastu-inspired architecture resembling a 3D sculpture crafted by a joyful sculptor. Now it stands as a witness to the horrors of the 7th.
Heading out of Sderot town, if one turns right and continues for five to six km along the highway, they reach a crossroads. Taking the left path leads to the Gaza border. However, tourists can only proceed along this road after answering numerous questions posed by the Israel Defense Force (IDF) personnel who oversee the area. These roads are reserved for local residents. Going straight from the crossroads leads directly to Gaza, a mere two km away. At this point, nearby Israeli artillery can be seen firing towards Hamas. Beyond this point, media personnel are restricted from entering the area.
During my time there, seven or eight IDF soldiers approached me, one of whom inquired if I was from India. Hearing I am an Indian, one of them said 'We love India'. One of the soldiers was young, around 19 years old. In Israel, military service is mandatory for all citizens, with a service duration of two years for girls and three years for boys, after they reach eighteen years of age. 
After completing their military service, it is a common trend for Israeli soldiers to spend six to eight months in India while exploring opportunities for their future careers. The soldiers took my contact details and said they would contact me if they came to Bengaluru.

Israel-Hamas War: Inside a bomb shelter in Israel's Ashkelon
While I was preparing to leave the place, one of those soldiers, a woman approached me and asked if I wanted to see the dead body of Hamas militants. While I agreed, she pointed towards a location roughly a furlong away. There, lying under a tree resembling a neem tree, were two tattered pieces of clothing. These belonged to the jihadists who had been killed by the Israeli army a week earlier. Their bodies had decomposed and swelled. She proceeded towards the site with a cloth covering her nose and mouth. Throughout my career in crime reporting, I have witnessed countless cases, but this encounter was unlike any other. 
Upon reaching the spot, I asked her if she would bury the remains. She responded, 'We will bury them all together.' Her demeanour was striking -- she held an M16 rifle, wore military attire, exuded strength in her gaze, and spoke with determination, all wrapped in a facade of beauty.
Last Updated Oct 18, 2023, 5:21 PM IST