Is disqualified legislator ST Somashekhar the emerging threat to BJP's Vokkaliga face R Ashoka?
The BJP in Karnataka may witness further crisis in the form of an internal rebellion with the entry of disqualified legislator ST Somashekhar as he is seen as a threat to BJP's Vokkaliga face, revenue minister R Ashoka.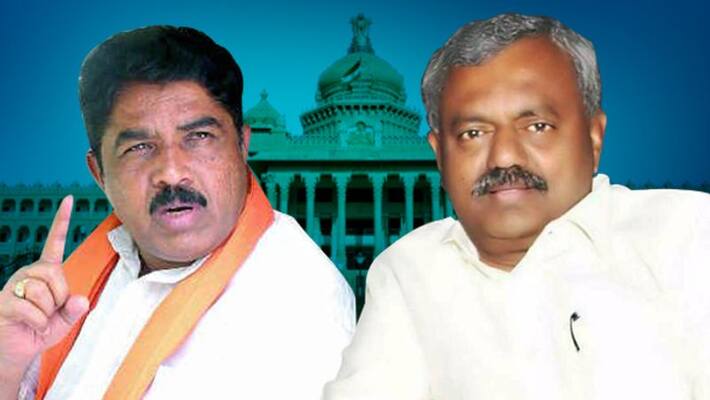 Bengaluru: BS Yediyurappa may have been successful in gaining the support of rebel leaders from the JD(S) and the Congress to form the government but now it seems like the real trouble is about to hit the party as disqualified leader ST Somashekhar has become a direct threat to Karnataka BJP's Vokkaliga face R Ashoka.
Somashekhar, a Vokkaliga had arm-twisted the Siddaramaiah government in the past and ensured that a Vokkaliga secured a Cabinet berth during the 2017 reshuffle. It was because of his warning, Siddaramaiah had made two-time MLA M Krishnappa the housing minister then. Now with Somashekhar, who took the lead in forming the rebel unit to bring down the previous HD Kumaraswamy-led government, entering into the BJP fold, it may create an internal rebellion.
R Ashoka is termed as Bengaluru Samrat in BJP circles for his efforts in capturing power in the BBMP in 2010 and also winning over 100 seats out of 198 in the 2015 Municipal election. Besides, he holds command over six to ten legislators in the city.
"ST Somashekhar is one leader who has direct access to BS Yediyurappa and also is in touch with central leaders, for him to placate R Ashoka. This will not take much time," a BJP insider said.
Karnataka Pradesh Congress Committee President, Dinesh Gundu Rao opines that not only ST Somashekhar but all the 15 disqualified legislatures could spell trouble for the BJP.
"The BJP is already a confused lot and cannot execute work. Many projects are in limbo, and rebels like this are an added problem for the BJP. Leaders like these will not keep quiet," added Dinesh Gundu Rao. 
BJP says Askoha will unquestionably remain a leader
Hitting back at the Congress for intervening in BJP's internal matters, the party's Bengaluru spokesperson NR Ramesh said, R Ashoka is the tallest Vokkaliga leader from the BJP.
"Even if such leaders (ST Somashekhar) join the BJP, they will be only seen a legislator and cannot be given importance like R Ashoka as he is unquestionably the leader," said Ramesh.
Last Updated Oct 10, 2019, 2:49 PM IST