IOC approves inclusion of cricket, 4 more sports in Los Angeles 2028 Olympics
The International Olympic Committe approved that cricket and squash will be included from the 2028 edition of the Olympic Games due to be held in Los Angeles. Baseball/ Softball, Lacrosse and Flag Football were also included in the 2028 roster after ratification by the IOC.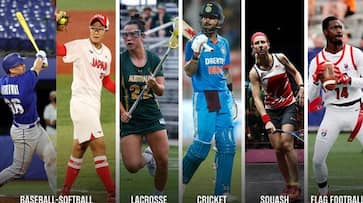 The International Olympic Committee (IOC) in its session in Mumbai approved inclusion of cricket in the 2028 Los Angeles games. Apart from cricket, Baseball-softball, flag football, lacrosse (sixes) and squash will also be part of LA28.
The IOC officially approved the inclusion of cricket (T20), baseball/softball, flag football, lacrosse (sixes), and squash as additional sports in the 2028 Los Angeles Olympics at a press conference on October 16.
On Monday, the IOC voted unanimously in favour of including all the five sports, with just two members voting against. 
Baseball/softball, cricket, and lacrosse will all make their Olympic debuts in Los Angeles, while flag football and squash will make their debuts. Baseball, a past Olympic event, will return in Tokyo in 2020 but will not be included in the Paris Games. Softball, baseball's female equivalent, has been in five Summer Games, most recently in Tokyo 2020.
Cricket, which will be played in the Twenty20 format, makes its Olympic debut after previously appearing only once in the Paris Games in 1900. LA 2028 intends to host a six-team Twenty20 tournament for both men and women. 
Last Updated Oct 16, 2023, 2:13 PM IST