'Innovative idea': Defence Minister Rajnath Singh says water from 115 nations to be offered at Ayodhya Temple
Ayodhya's Ram Temple will be blessed with water from 115 countries worldwide; a 'jalabhishek' of Ram will be done with the water; read more details.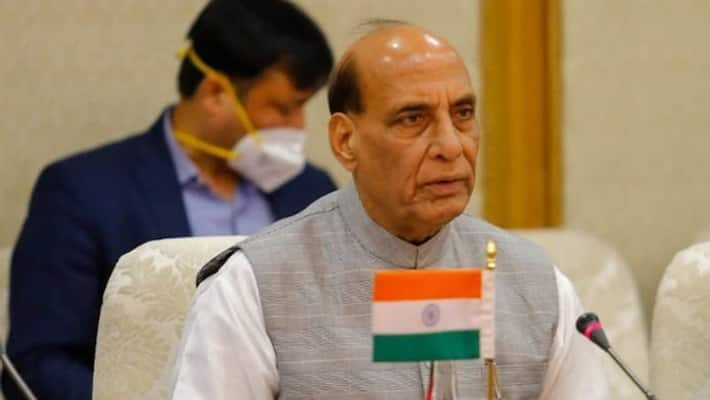 Defence Minister Rajnath Singh on Saturday stated that water would be procured from 115 countries across seven continents to offer at Ayodhya's Ram Mandir. The minister called it "innovative thinking", spreading the message of 'Vasudhaiva Kutumbakam'.
Singh has received water from rivers, streams, and oceans and sourced it from 115 countries at his residence at Akbar Road in the presence of Shri Ram Janmabhoomi Teertha Kshetra General Secretary Champat Rai and ambassador and high commissioners from several countries, including Denmark, Fiji, and Nigeria. Also Read: Delhi NGO reveals they procured water from 115 nations for Ram Temple in Ayodhya
According to reports, the water was procured by NGO Delhi Study Circle, led by BJP Leader and former Delhi Member of Legislative Assembly Vijay Jolly. Appreciating the efforts, Singh said procuring water from all the world's countries replicates the thinking of Vasudhaiva Kutumbakam of India. Also Read: 21 kg silver swing installed for Lord Ram in Uttar Pradesh's Ayodhya to celebrate Shravan festival
He further stated that procuring water from 115 countries is excellent work. He hoped that water from the remaining 77 countries would also be procured for constructing the temple. A proper 'Jalabhishek' of Ram Lala will be done with that water. While addressing the gathering, Rai stated that the first phase of the foundation of the Ram Temple had been completed.
Last Updated Sep 18, 2021, 8:13 PM IST