Indigo-passenger faceoff: CEO Aditya Ghosh writes mail to employees to boost morale; Requests keeping calm
The ground staff of Indigo Airlines are suffering from low morale due to the funny memes and jokes being circulated on the Internet.
CEO Aditya Ghosh requests his employees to keep calm and not give in to instigations.
Indigo is said to have apologised to the passenger concerned and has sacked one of its employees involved in the brawl.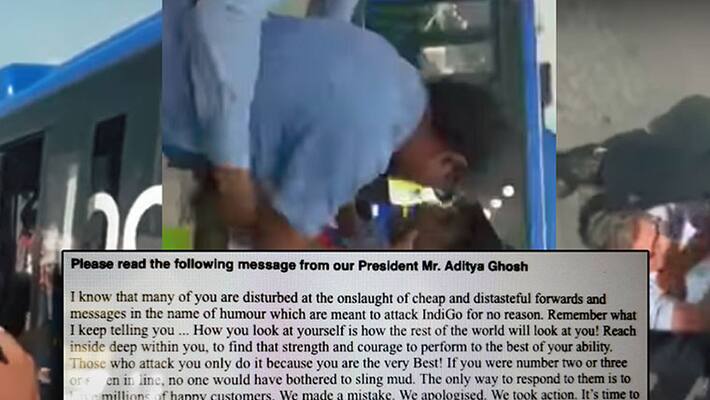 Amid severe criticism about the way Indigo employees handled a passenger as projected in a viral video, the CEO of the airline decided to write a mail to its employees, especially its ground staff to keep calm on provocation. As reported by BoomLive, he wrote, "stay calm, not to get provoked and don't get drawn into any argument". 
The email, reportedly, comes after complaints from employees across airports of harassment from passengers. For instance, one of the passengers seem to have asked a ground staff while waiting to board the plane, "Aaj kitne logo ko maara?" Naturally, the staff morale has taken a dip, especially after all the criticism they have already faced with humorous jokes, memes and Tweets. Speaking to BOOM, another staff said that employees are given daily briefing and that they are being instructed to ignore the snide comments coming from passengers.
Referring to the sacking of an employee Monty Kalra for shooting the video and instigating the junior employees, one of the ground staff said, "Suddenly with the entire airline on the back foot, getting people to listen is a problem. The staff is worried about losing their jobs."
Calling the humourous forwards cheap and distasteful, Ghosh reminded his employees that they are the best and reportedly said, "If you are number two or three or seven in line, no one would have bothered to sling mud."
On October 15, a video went viral where an Indigo passenger Rajeev Katyal was shown being tackled to the ground by the Indigo staff after an argument. While this happened at the Delhi airport, the employees of the airline across the country are facing the ire of the passengers who are sending across memes and tweets about the incident. In fact, this is considered the biggest customer relationship crisis ever since the airline launched in 2006.
Incidentally, the aviation ministry has also sought an explanation from the airline authorities who have replied to them in a 7-paged letter. They said that they have apologised to Katyal and have sacked one employee and have given final letters of warning to two other employees involved in the fight. However, the airline also defended its employees saying that they had the right to defend in certain cases. 
Last Updated Mar 31, 2018, 6:46 PM IST