Indian Railways did a 'fortress check' at Dadar Station, earned Rs 4.2 lakh in fines in ONE DAY
In a major effort to curb ticketless travel, Western Railway conducted a 'fortress check' operation at Dadar Railway Station in Mumbai, resulting in the capture of 1,647 unauthorized passengers in a single day. This operation was a part of the 'Mera ticket, Mera Imaan' campaign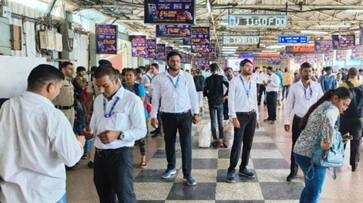 In a significant crackdown on ticketless travel, Western Railway (WR) executed a 'fortress check' operation that resulted in the apprehension of 1,647 unauthorized passengers in a single day at Mumbai's Dadar Railway Station. This 'fortress check' involved stationing ticket-checking personnel at all entry and exit points to enhance the identification of travellers travelling without valid tickets.
To combat unauthorized passenger travel, WR has launched the 'Mera Ticket, Mera Imaan' (My Ticket, My Integrity) campaign. Under this initiative, a drive was conducted at Dadar Railway Station under the supervision of divisional railway manager Neeraj Verma.
The operation carried out on Saturday marks the largest-ever crackdown on 'without ticket' passengers in a single day at any Indian Railways station during a fortress check. According to a senior official quoted by the Times of India, "195 ticket-checking staff were deployed at Dadar station on the morning of September 30. The extensive inspection continued throughout the day, resulting in twice the daily average number of apprehensions on the WR stretch."
On an average day, the number of 'without ticket' cases on WR's suburban section, spanning from Churchgate to Dahanu, is approximately 762. The official further stated, "The number of individuals apprehended at Dadar was nearly double what our ticket-checking staff typically catch every day... The sheer intensity of this operation is evident from a video shared by a commuter on social media, showcasing how the ticket-checking team formed a 'wall' on the Dadar main FOB (Foot Over Bridge)."
Another senior official mentioned that the impact on ticketless travellers was so significant that even the M-indicator suburban app issued alerts to commuters, urging them to purchase tickets at Dadar, warning of potential consequences.
By the end of the day, the operation had uncovered 1,647 cases of unauthorized travel and recovered Rs 4.22 lakh in fines, making it the most extensive 'fortress check' operation in the history of Indian Railways. This stands in contrast to the average of only 230 cases detected daily at Dadar on the WR network.
Last Updated Oct 2, 2023, 9:09 AM IST