'Continuous interference in our affairs': Jaishankar on downsizing Canadian diplomatic presence
Jaishankar refuted claims that India had violated the Vienna Convention on diplomatic relations, stating that "we invoked parity because we had concerns about continuous interference in our affairs by Canadian personnel." This statement came after Canada withdrew 41 of its diplomats from India.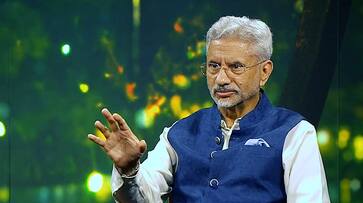 Tensions between India and Canada have escalated as India's External Affairs Minister, S. Jaishankar, cited interference in New Delhi's affairs by Canadian personnel as a key reason for the downsizing of the Canadian diplomatic presence in the country. The move, which saw Canada withdraw 41 of its diplomats from India, is a response to what India views as continuous meddling in its internal matters.
"Parity is very much provided for by the Vienna Convention, which is the relevant international rule on this. In our case, we invoked parity because we had concerns about continuous interference in our affairs by Canadian personnel," Jaishankar said, rejecting the idea that India had violated the Vienna convention on diplomatic relations.
This statement comes shortly after Canadian Prime Minister Justin Trudeau expressed concerns about the impact of India's crackdown on Canadian diplomats, asserting that it was affecting normal life for citizens in both nations.
"The relationship right now is going through a difficult phase. But I do want to say the problems we have are with a certain segment of Canadian politics and the policies which flow from that," Jaishankar added.
One of the contentious matters revolves around the Sikh community in Canada, which is home to approximately 770,000 Sikhs, constituting around two percent of the country's population. Some within this minority have advocated for the creation of a separate Sikh state, Khalistan. It's noteworthy that the Sikh separatist movement in India has largely waned, with security forces quelling the insurgency in Punjab during the 1980s.
India has expressed displeasure with Trudeau's insinuation last month that Indian agents might have played a role in the murder of a Sikh terrorist in Canada. Although Canada has called for Indian cooperation in the investigation, India has firmly denied these allegations and responded with measures such as the suspension of visa services for Canadians.
The strained relations are affecting the issuance of visas, which impacts not only diplomatic interactions but also education. India is the largest source of international students for Canada, accounting for approximately 40% of study permit holders. However, India temporarily ceased visa issuance in Canada due to concerns about the safety and security of its diplomats.
"Right now the big concern which people have is on visas. Some weeks ago, we stopped issuing visas in Canada because it was no longer safe for our diplomats to go to work to issue visas. So their safety and security was the primary reason we had to temporarily stop the issue of visas. We're tracking it very closely," he said.
"My hope, my expectation is that situation would improve in the sense that our people would have greater confidence in being able to do their basic duty as diplomats. Because ensuring safety and security of diplomats is the most fundamental aspect of the Vienna Convention. And right now that is what has in many ways been challenged in Canada that our people are not safe, our diplomats are not safe. So if we see progress there, I would like very much to resume the issue of visas," the External Affairs Minister added further.
Last Updated Oct 22, 2023, 6:38 PM IST