Hindu man donates blood to save Muslim patient even as relatives back away during lockdown
A Hindu man donated blood to save a Muslim patient suffering from kidney ailment in Uttar Pradesh while the man's relatives refrained from donating blood during lockdown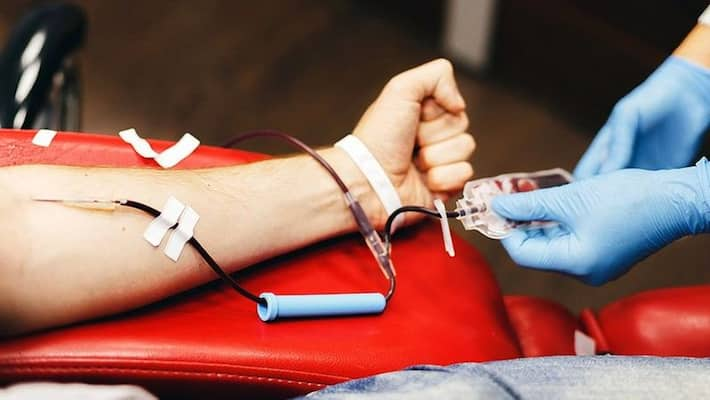 Kanpur: In an exemplary service of humanity, a man in Uttar Pradesh donated blood to a woman named Shahana Begum (55), a kidney patient in dire need of it.
Abhimanyu Gupta (35) chose humanity over religion when he came forward to help the woman even as her relatives backed off citing coronavirus lockdown as a reason.
Abhimanyu Gupta, a lawyer, social activist and a resident of Cantt area, received a call from Shahana's Farrukhabad-based son Shaizy, who requested him to help save his mother's life as she had to undergo dialysis and was in dire need of two units of blood.
Setting a perfect example of religious harmony and humanity, Abhimanyu donated blood to save the life of the Muslim woman without giving a second thought.
"We had tears in our eyes, when even few of my relatives refused to donate blood to my mother at the last moment, and there was almost no hope left," said Shaizy.
"I had almost lost all hope when this man came as Allah's farishta (God's angel) amid the lockdown," said Shahana.
"If I get an opportunity in my life, I will not hesitate to donate blood but also even my organs to save a person from a different religion," she said. The act of Abhimanyu earned praise on social media.
On late Sunday night, Abhimanyu, who is socially active and popular on social media, received a call about a Muslim woman with Army background in need of blood.
"I got a call from a woman's son Shaizy who requested me to help arrange blood for his ailing mother. Next morning, I tried to find donors, but could not find any. No donors were available, so finally, I decided to donate the blood myself," Abhimanyu said.
He immediately rushed to Seven Air Force hospital where Shahana had to undergo dialysis.
 
Last Updated Apr 29, 2020, 2:37 PM IST