Hate poster targeting minorities surfaces in Madhya Pradesh, says 'No entry to Muslim traders'
After repeated targeting of minorities and after the appeal from PM Modi to display unity and not to indulge in differentiation based on caste, religion creed, and fight COVID-19 unitedly, a poster is doing the rounds in Madhya Pradesh saying Muslims are barred from entering the village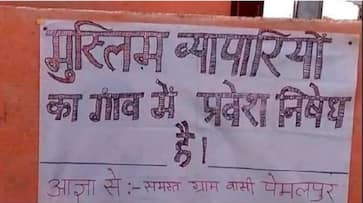 Bhopal: After a village panchayat official in Karnataka was seen making an open announcement of banning entry of Muslims terming them to be carrying the virus, now the same has been repeated in Madhya Pradesh. 
At Depalpur Tehsil's Pemalpur village, a poster has surfaced brazenly attacking PM Modi's 'unity thought' claiming Muslim traders must be banned from entry. 
The poster said, "Muslim vyapariyon ka gaon mein pravesh nishedh hai (Muslim traders are not allowed in the village)."
As the information spread, the local police rushed to the spot and tore the hand-made poster and have registered a case in this regard. 
The matter is said to have reached DIG Harinarayanchari Mishra and he has asked the police to be on alert to ensure such things are not repeated.
Opposition attacks CM Shivraj Singh Chouhan
Former CM Digvijay Singh, who had enough of defeats in politics in the last few years, is being perceived as the reason for Jyotiraditya Scindia's exit from Congress. He took this opportunity to attack the BJP. 
Digvijay Singh tweeted hours after the incident. He wrote, "Is such an act not a punishable offence under our law?"
"Such a division in the society is not in national interest," he added.
Last Updated May 4, 2020, 11:38 AM IST