This team proudly hoisted the tricolour over highest peaks of every state in India
The National Institute of Mountaineering and Adventure Sports (NIMAS) achieved a remarkable feat by reaching the highest peaks of every state in India and hoisting the national flag as part of the 'Har Shikhar Tiranga -- Ek Muhim Matrabhumi Ke Liye' mission.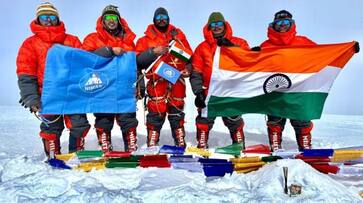 In a remarkable feat and first-of-its-kind expedition, the Dirang-based National Institute of Mountaineering and Adventure Sports (NIMAS) team have successfully reached the highest peaks of each and every state across the country and hoisted the national flag under 'Har Shikhar Tiranga -- Ek Muhim Matrabhumi Ke Liye' mission. The mission was launched as part of the extended 'Azadi ka Amrit Mahotsav', the celebration of the 75th year of India's independence and aligning with its G20 presidency. 
Led by NIMAS Director and ace mountaineer Colonel Ranveer Singh Jamwal, the mission also resonates with Prime Minister Narendra Modi's recent initiative, 'Meri Mati, Mera Desh'. The mission stands as a reminder that the freedom we hold today came at a great cost.
Comprising 20 core members, the mission showcased a journey of unity, patriotism and adventure. Supported by the Ministry of Defence and the Arunachal Pradesh government, the Har Shikhar Tiranga mission created a mission nationwide and people from several walks of life joined the expedition. During their expedition, the NIMAS team received a warm welcome and support from people, students, administration, and local political activists. 
 
The Har Shikhar Tiranga mission
The mission was launched to make people aware of the highest point in their state, the national flag and explore tourism opportunities. It was also initiated to promote adventure and mountaineering, encourage environmental awareness and introduce India's rich and diverse terrains, peaks and mountains to the world. 
"These peaks and mountain ranges not only provide scenic beauty but also play a vital role in India's ecosystems, water resources, and cultural traditions and are sought-after destinations for trekkers and adventure lovers and it is important to raise awareness about the highest peaks of the states among the masses," Col Ranveer Singh Jamwal said. 
Besides, celebrities like Bollywood actors Anupam Kher, Mohit Raina, Darshan Kumar and Gaurav Chopra also cheered for the team and supported the mission.  
 
Challenges before the Har Shikhar Tiranga team
According to Colonel Jamwal, the main challenge was to locate the highest points of all states and it took around three months to design the map of the highest points of all the states. 
"Each peak had unique climatic conditions and the team faced the challenges of extreme weather conditions from spine-chilling cold to zero visibility, navigation issues due to poor connectivity, heavy rainfall, avalanches, steep and slippery terrains, humidity, leeches and fear of wild animals, all in one single expedition," the NIMAS Director said. 
The expedition involved travelling across the country which came up with challenges like unavailability of transportation in some areas, poor roads in many remote areas, security challenges in naxal-infested areas and also interacting with local communities due to language barriers, he added.
The highest peaks in every state
In 2022, the team accomplished the first phase by conquering all the peaks in the northeastern states. They reached Mt Gorichen (6509M) in Arunachal Pradesh, Mt Saramati (3842M) in Nagaland, Mt Iso (2994M) in Manipur, Mt Tumjang (1862M) in Assam, Mt Phawngpui (2185M) in Mizoram, Mt Beltingchhip (916M) in Tripura and Shillong Peak (1525M) in Meghalaya. 
 
The second phase was started in May 2023 from the Himalayan state of Himachal Pradesh. On May 22, the team hoisted tricolour at Mt Reo Purgyil in the state which is the highest peak with an elevation of 6818M. 
 
Colonel Jamwal said: "We are the only the 2nd team to scale this peak and there is only one recorded history of climbing this peak, that too in1995."
 
In Uttarakhand, they scaled Mt Kamet (7756 M) on June 22. These two states' highest peaks were climbed in the second phase. 
 
Naina Devi Range (1000 M) in Punjab, Karoh Peak (1499 M ) in Haryana,  Amsot Peak (957 M ) in Uttar Pradesh, Guru Shikhar (1722 M) in Rajasthan, Girnar (1145 M) in Gujarat, Dhoopgarh (1350 M) in Madhya Pradesh, Kalsubai (1646 M) in Maharashtra, Sosogad (1022 M) in Goa, Mullayangiri (1925 M) in Karnataka, DoddaBetta (2636 M) in Tamil Nadu, MessaPulliMalai (2647 M) in Kerala, Patal Toka (826 M) in Telangana, Armakonda (1680 M) in Andhra Pradesh, Deomali (1672 M) in Odisha, Gaurlata (1276 M) in Chhattisgarh, Parasnath (1366M) in Jharkhand, Someshwar Fort (880 M) in Bihar,  Sandakphu (3636 M) in West Bengal were done in the 3rd phase of the expedition. 
 
Mt Jongsong (7462M) in Sikkim was completed in the final stage on 2nd October 2023 amidst heavy rainfall and bad weather conditions in Sikkim.
Last Updated Oct 16, 2023, 11:21 AM IST