Haldhar Nag: Enriching a little-known language one poem at a time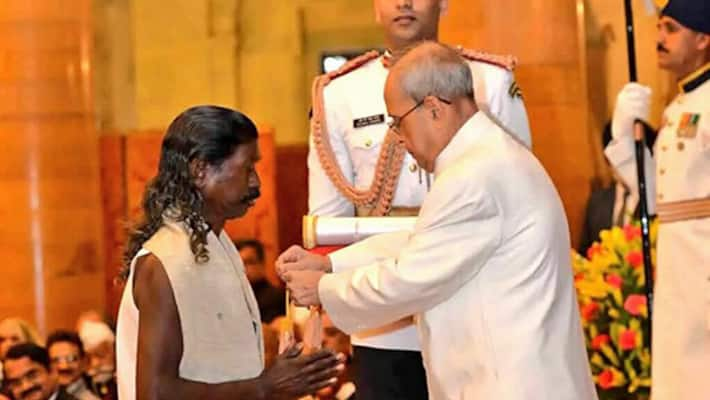 Several PhDs have been awarded for research on Haldhar Nag's poems and his poems are part of the syllabus of the Sambalpur University, giving his work that tinge of academic acceptable that is so rare for those who chose to express themselves in less privileged avenues. Interestingly, Nag himself has only studied up to the third standard in his local government school. 
This lack of book knowledge has not slowed the great poet, who poignant works are filled with tributes to the land, rivers and mountains of his native Odisha. 
In this somewhat famous picture, Nag can be seen accepting his Padma Shri from the President in his standard white dhoti and vest. He is, more notably, barefoot. It must have been an odd sight for those who noticed, amid the conspicuous pomp and splendour of the Rashtrapati Bhavan. Not that Nag would have noticed. He has never worn footwear in his life.
Born in the Bargarh district of Odisha in 1950, he is a poet in the Kosli language, a western dialect of Odia (though the speakers insist it a separate language, also known as Sambalpuri). Nag's father died when the poet was only 10, forcing him to drop out of school in the third standard. He has never had any further formal education.
As a boy, he worked as a dishwasher. Then as a cook for the next 18 years. It was only once he opened a small stationary shop that Nag, then nearly 30, found the inspiration to write poetry. He wrote his first poem for a local magazine, and once that was accepted, he never looked back. He penned many stories, epics and of course, several collections of poems. His stories are based on local myths and his poems are laced with an earthy love for nature, animals and the natural world. 
He still holds regular recitals of his poems and stories, which he seems to recall perfectly from memory. And those recitals attract large crowds. In fact he has risen into something of a legend in Western Odisha.
The Kosli language does not have a great literary tradition to speak of. In some ways it begun with Nag. Today he has lakhs of followers and a horde of imitators, poets and writers who mimic his style.
The Padma Shri is merely one more highlight in a long and achievement-packed life. Nag has actively campaigned to have his language included in the Eighth Schedule of the Constitution, and one can assume if that happens in his lifetime, it would be the crowning achievement for a man who has dedicated his life to the language.
His state certainly appreciates him. He is known as Lok Kabi Ratna in Odisha. 
Image: Poet Haldhar Nag receiving the Padma Shri Award from President Shri Pranab Mukherjee (PTI)
Last Updated Mar 31, 2018, 6:56 PM IST