'Mahatma Gandhi's impact is global...' President, PM Modi lead nation in paying tributes to Father of Nation
President Droupadi Murmu and Prime Minister Narendra Modi lead the nation in commemorating Mahatma Gandhi's 154th birth anniversary. The PM's heartfelt message underscores the enduring impact of Gandhi's teachings on unity and compassion. President Murmu highlights Gandhiji's principles of truth and non-violence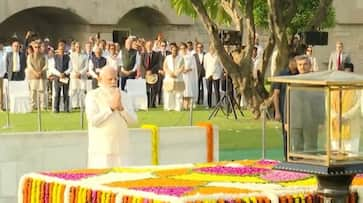 President Droupadi Murmu and Prime Minister Narendra Modi led the nation in paying tributes to the Father of the Nation, Mahatma Gandhi on his 154th birth anniversary. Before paying tributes at the Rajghat in the national capital, the Prime Minister took to micro-blogging platform X (formerly Twitter) to say that Mahatma Gandhi's 'timeless teachings continue to illuminate' the country's path.
He wrote: 'I bow to Mahatma Gandhi on the special occasion of Gandhi Jayanti. His timeless teachings continue to illuminate our path. Mahatma Gandhi's impact is global, motivating the entire humankind to further the spirit of unity and compassion. May we always work towards fulfilling his dreams. May his thoughts enable every youngster to be the agent of change he dreamt of, fostering unity and harmony all over.'
On the eve of Gandhi Jayanti, President Murmu stated that Gandhiji's principles of truth and non-violence charted a new course for the world. Throughout his lifetime, Gandhiji championed not only non-violence but also advocated for causes like sanitation, women's empowerment, self-reliance, farmers' rights, and fought against untouchability, social discrimination, and illiteracy, she said.
Vice President Jagdeep Dhankhar and Lok Sabha Speaker Om Birla also offered floral tributes to Mahatma Gandhi at Rajghat.
Congress President Mallikarjun Kharge paid his respects at Rajghat and emphasized that Mahatma Gandhi represents more than just an individual; he embodies an idea, an ideology, and the moral compass of our great nation. He added, "His principles of truth, non-violence, freedom, equality, and coexistence hold eternal significance."
Meanwhile, the official Congress handle extended a billion tributes to Mahatma Gandhi, The party highlighted that Mahatma Gandhi's unwavering dedication to the cause of freedom secured India's independence. "Let us pledge to uphold his values of peace, unity, and non-violence, which serve as the foundation of our nation," the party said.
Gandhi Jayanti commemorates Mahatma Gandhi's birth anniversary, observed annually on October 2. It also coincides with the International Day of Non-Violence, honoring Gandhi's principles of non-violence and tolerance. As the Father of the Nation, Gandhi led India's struggle for independence alongside numerous other national leaders in opposition to British rule.
This day also marks the birth anniversary of former Prime Minister Lal Bahadur Shastri, renowned for his leadership during India's victory in the Indo-Pakistani War of 1965 and his iconic slogan, "Jai Jawan Jai Kisan" (Hail the Soldier, Hail the Farmer).
Last Updated Oct 2, 2023, 8:35 AM IST