G20 Summit 2023: Pithora painting artisan from Gujarat sheds light on Vasudhaiva Kutumbakam theme (WATCH)
Paresh Rathore, an artisan from Gujarat, sheds light on the roots of Pithora Painting as he offers an insightful explanation of the theme of G20 Summit 2023 - Vasudhaiva Kutumbakam (The World is One Family).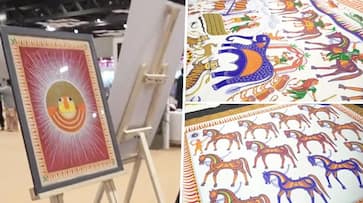 India, a land of rich cultural diversity and heritage, has always cherished its traditional art forms as an integral part of its identity. At the ongoing G20 Summit 2023, an artisan from Gujarat, Paresh Rathore, captures the captivating world of Pithora Painting and offered an insightful explanation of the theme of the mega event - Vasudhaiva Kutumbakam (The World is One Family).
Pithora Painting is a traditional art form that originated among the indigenous Rathwa and Bhil communities of Gujarat and Madhya Pradesh. The name "Pithora" is derived from the local deity worshiped by these tribes, believed to be a protector of the community. These paintings, characterized by their vibrant colours and distinctive patterns, are not merely artistic expressions but a spiritual and cultural heritage passed down through generations.
Paresh Rathore, a dedicated artisan, has made it his mission to preserve and promote this unique art form. He passionately explains that Pithora Paintings are an integral part of tribal life and are often associated with rituals, ceremonies, and festivals. They adorn the walls of homes and serve as a visual representation of the community's beliefs and values.
Also read: WATCH: Painting of Chandrayaan-3's success featuring PM Modi showcased at G20 Summit 2023
The theme of G20 Summit 2023, 'Vasudhaiva Kutumbakam', originates ancient Indian scriptures and emphasizes the idea that the entire world is interconnected, and every living being is a part of one universal family. Paresh Rathore's beautiful painting, showcased at the Crafts Bazaar in Bharat Mandapam, encapsulated this philosophy through its intricate depictions. They feature various elements of nature, animals, humans, and deities coexisting in perfect harmony, symbolizing the universal brotherhood that "Vasudhaiva Kutumbakam" propagates.
As an artisan deeply committed to his craft, Paresh Rathore believes that by creating and sharing Pithora Paintings, he can contribute to spreading the message of "Vasudhaiva Kutumbakam." He takes pride in the fact that his art is a medium through which he can contribute to the greater good, fostering a sense of togetherness in a world often divided by divisions.
Last Updated Sep 10, 2023, 12:48 PM IST