French astronaut Thomas Pesquet expresses 'dream' of flying to outer space with an Indian counterpart
French astronaut Thomas Pesquet expresses his dream of collaborating with an Indian astronaut and discusses the importance of space exploration at the Indian Space Conclave, while ISpA and GIFAS sign an MoU to enhance space industry cooperation between India and France.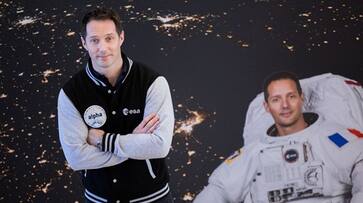 French astronaut Thomas Pesquet spoke at the Indian Space Conclave organized by the Indian Space Association (ISpA) on Monday where he shared his dream of collaborating with an Indian astronaut to explore outer space and harness its remarkable benefits for humanity. Pesquet, who had spent a total of one year on the International Space Station across two separate missions, also emphasized the importance of protecting Earth, which appears fragile when viewed from space.
He commended India for its upcoming Gaganyaan mission, aimed at sending humans into space, noting its impressive nature and global recognition. "India is on the cusp of achieving an important milestone - the Gaganyaan mission which is to send humans into space - this is extremely impressive and noticed across the world," he said.
During his visit to Paris, Pesquet had met with Prime Minister Narendra Modi to discuss the significance of human spaceflight.
Pesquet expressed his aspiration, stating, "I have a new dream, the dream to one day fly with an Indian astronaut colleague and take this cooperation into outer space, to bring back the unbelievable benefits of space exploration to our countries."
At the same conclave, ISpA and GIFAS (the French Aerospace Industries Association) signed a Memorandum of Understanding (MoU) to enhance cooperation within the space sector. India and France, after six decades of collaboration in the space sector, are encouraging increased cooperation, with France planning to launch a reusable small launcher within the next three years.
French Ambassador-designate to India, Thierry Mathou, highlighted the need for stronger cooperation between Indian and French private sectors, particularly in response to the rapidly changing economic environment. He outlined France's strategic goals, including launching a reusable small launcher by 2026, introducing ten new services via operational constellations by 2030, and engaging over 200 entities in utilizing space data.
Mathou welcomed Indian companies to invest in France, leveraging the French and European space vision and expertise. The MoU between ISpA and GIFAS aims to increase understanding of space industry capabilities, raise awareness of business opportunities in both countries, promote sustainable growth, innovation, and adoption of new technologies in the space sector, and facilitate academic and educational program exchanges.
"The MoU with GIFAS reaffirms our commitment to strengthening industry collaboration between our two nations. Together, we shall continue to push the boundaries of space exploration and unlock the limitless possibilities that await us," Lt. Gen. AK Bhatt (Retd.), Director General of Indian Space Association said. 
Last Updated Oct 9, 2023, 10:22 PM IST