Former underworld don Muthappa Rai passes away at 68
Noted filmmaker Ram Gopal Verma is making a film on Muthappa Rai. Actor Vivek Oberoi will be seen playing the role of the don in the film Greatest Gangster Ever.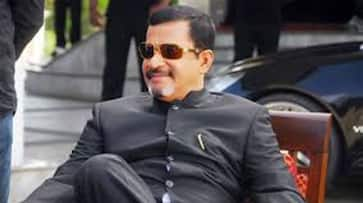 Bengaluru: Former underworld don and social activist Muthappa Rai passed away on Friday, May 15. He was 68. He passed away at 2 am after failing to respond to treatment at Manipal Hospital here in Bengaluru. 
He is  survived by his wife and two sons, Rocky Rai and Vicky Rai. Suffering from brain cancer for the last one year, Rai had been hospitalised a few days ago and was on a life supporting system. 
Rai will be cremated later this afternoon. Members of his family have appealed to his followers not to attend the funeral and respect the law. Due to COVID-19, only 20 persons are allowed to be present at any funeral.
His eldest son Rocky is settled in Canada and is unlikely to attend the funeral. His other son Vicky was with Rai in Bengaluru when he passed away.
Earlier during the year, the Jaya Karnataka party chief had hinted at retirement from active social life. Clarifying the multiple rumours on his health conditions, Rai told the media that he was diagnosed with brain cancer but has been living miraculously on will power.
Starting his career as a clerk in Vijaya Bank, Muthappa claimed to have accidentally turned to a life of crime in Bengaluru to protect his business — a bar and restaurant — from the onslaught of the underworld in the 1980s. Credited to be the brain behind the murder of the then reigning don of the city MP Jayaraj, he steadily rose in the underworld and was once linked to Dawood Ibrahim.
Subsequently, he was cleared in all cases by the courts. For the last two decades, he claimed to have quit the underworld and got involved in social work through Jaya Karnataka, a non political organisation, through which he created an army of followers.
Since the organised mafia is almost dead in Bengaluru, perhaps Muthappa Rai was the last to rule the underworld in India's IT city.
Last Updated May 15, 2020, 9:06 AM IST