Fire at ICU of civil hospital in Maharashtra's Ahmednagar: 11 patients lose their lives
All the deceased were undergoing treatment for Covid-19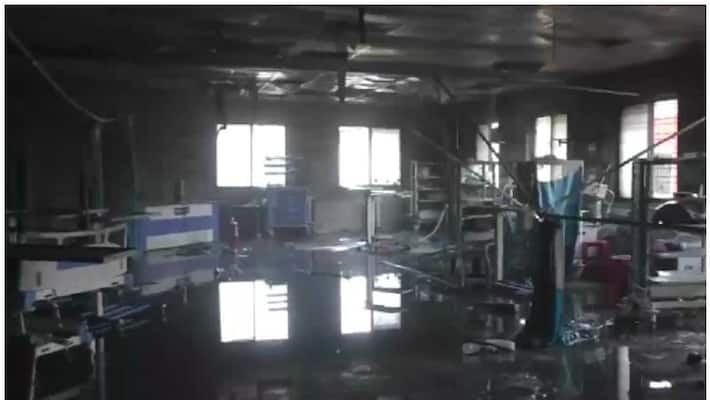 At least 11 patients have lost their lives in a fire that broke out in the Intensive Care Unit of a hospital in Maharashtra's Ahmednagar. At least 17 patients were being treated in the ICU when the fire had broken out in the civil hospital. The cause of the fire is not yet to be ascertained. According to reports, most of these were Covid-19 patients.
Four fire tenders were rushed to the spot to control the fire which threatened to spread to other wards. Fire rescue personnel shifted at least 20 patients to other hospitals. The fire has been contained and cooling-off operations are going on. Ahmednagar Guardian Minister Hassan Mushrif has confirmed the death toll. The condition of one of the patients is said to be critical. Minister Mushrif said strict action would be taken against those responsible for the incident.
District Collector Rajendra Bhosale confirmed that all the deceased were undergoing treatment for Covid-19. He also said that prima facie, the fire might have been caused by a short circuit. Questions have also been raised with regard to the arrangements made to deal with the fire in the civil hospital. Senior police officials are at the spot to assess the situation.
Besides a 58-year-old man, whose details are yet to be known, the identity of the 10 other victims has been ascertained. They are:
Sitaram Dagdu Jadhav (83) 
Hailing From: Bakhtapur, Shevgaon
Bhivaji Sadashiv Pawar (80) 
Hailing From: Kinhi village, Parner
Ramkisan Vitthal Harpude (70)
Hailing From: Maka village, Nevasa 
Kondabai Madhukar Kadam (70) 
Hailing From: Kedgaon
Chababi Ahmed Sayyad (65) 
Hailing From: Shendi 
Satyabhama Shivaji Ghodchaure (65)
Hailing From: Telkudgaon, Nevasa, 
Kadubal Gangadhar Khatik (65) 
Hailing From: Patharvala, Nevasa, 
Asrabai Govind Nangare (58)  
Hailing From: Shevgaon 
Deepak Vishwanath Jagdale (37) 
Hailing From: Sangamner 
Maharashtra Chief Minister Uddhav Thackeray mourned the loss of lives and assured a detailed probe into the incident.
Also Read
Did Demonetisation succeed? RBI data reveals worrying currency statistics
Petrol, Diesel prices: 23 states and UTs have so far slashed VAT; Rajasthan still sells costliest fuel
Last Updated Nov 6, 2021, 6:59 PM IST