Finance minister Nirmala Sitharaman focuses on agriculture, fisheries and animal husbandry
The Centre rolled out its third tranche of economic measures with 11 announcements on Friday. Finance minister Nirmala Sitharaman announced 11 measures, out of which, eight of them focused on strengthening infrastructure, capacities and building better logistics in agriculture, fisheries and animal husbandry, while the rest 3 pertained to governance and administrative reforms.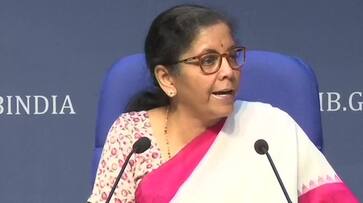 New Delhi: PM Modi announced a Rs 20 lakh crore stimulus to revive the economy amid coronavirus lockdown on May 12. Today is day three of announcements by finance minister Nirmala Sitharaman in relation to the financial package announced by Prime Minister Narendra Modi.
It focused on farmers, fishermen and animals.
Here are the highlights:
Agriculture infrastructure
Rs 1 lakh crore for farm gate infrastructure (to be done immediately)
A finance facility of Rs 1 lakh crore for farm aggregators, FPOs for strengthening farm gate infrastructure by funding Agriculture Infrastructure Projects, agriculture entrepreneurs and post-harvest management infrastructure.
Rs 10,000 crore scheme for formalisation of Micro Food Enterprises
The fund for micro food enterprises (MFE) will help 2 lakh MFEs using technical up-gradation, building brands, marketing. A cluster-based approach on a state-basis (Eg: mango in UP, Kesar in J&K, Bamboo shoots in NE, Chilli in Andhra, etc) will be used and the government expects improved health and safety standards, to improve incomes and tap into export markets amid improved health consciousness. The focus will be to help the MFEs become brands and reach the global level.
Rs 20,000 crore for fishermen through PM Matsya Sampada Yojana
Executing the scheme launched in the Budget 2020 immediately, the PM Matsya Sampada Yojana allots Rs 11,000 crore for marine, inland fisheries and agriculture. Rs 9000 crore for infrastructure including fishing harbours, cold chain, markets etc. will lead to additional fish production of 70 lakh tonnes over 5 years and provide for 55 lakh people and will double exports to Rs 1,00,000 crore. The main focus to be on Islands, Himalayan states, NE and aspirational districts.
National Animal Disease Control Programme launched
Ensuring 100% vaccination of cattle, buffalo, sheep, goat and pig population which will cover 53 crore animals. The programme has an outlay of Rs 13,343 crore since January 2020. Till date, 1.5 crore cows and buffaloes are tagged and vaccinated.
Rs 15,000 crore to be spent for dairy infrastructure
An Animal Husbandry Infra Fund of Rs 15000 crore will be set up to support private investment in dairy processing and cattle feed infrastructure. The incentive will be given for establishing plants which export niche (world-class) products.
Agriculture marketing reforms to provide marketing choices
Govt will bring agriculture marketing reforms to provide marketing choices to farmers via a Central law to provide:
Adequate choices to farmer to sell products at attractive price
Barrier free inter-state trade
Framework for e-trading of agriculture produce
Last Updated May 15, 2020, 6:00 PM IST