Eminent historian Harishankar Vasudevan succumbs to COVID-19
Eminent historian Harishankar Vasudevan died fighting COVID-19 infection on Sunday morning at the age of 62. He was admitted to a private hospital in Kolkata.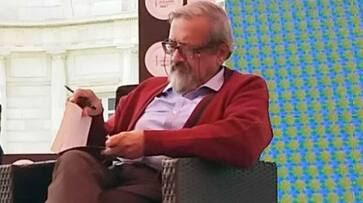 Kolkata - Noted historian Harishankar Vasudevan (62) passed away due to COVID-19 complications early morning on Sunday. He was admitted to a private hospital at Bidhan Nagar area of Kolkata with COVID symptoms a few days ago. However, the state government said they would investigate whether his death was indeed due to coronavirus infection, or some other disease.
The renowned historian, who resided in CD block of Bidhan Nagar, developed fever and other COVID-19 symptoms earlier this month. On May 4, he was admitted to AMRI Hospital in Bidhan Nagar. His swab sample was immediately taken for COVID-19 testing and his results showed that he was positive on May 6.
He suffered from severe shortness of breath from the very next day and was put under ventilation support. However, he lost the battle and succumbed to the deadly infection. 
Doctors of AMRI hospital said, "He was suffering from other chronic illnesses, so he may be a victim of comorbidity. Bidhan Nagar police station already sealed the area around his house soon after he was tested positive for COVID-19. Five members of the historian's family had been home-quarantined."
After graduating from Christ's College in Cambridge, he completed his post-graduation and PhD from Cambridge University. He researched about 'Democracy and development in India and Europe' and 'Russia-India relations and contemporary world politics'.
After completing his higher education, he came back to India and became a professor of modern history at the Calcutta University. He was also the director of the Maulana Abul Kalam Azad Institute of Asian Studies and taught modern history in many reputed institutions across India, including Jamia Millia Islamia University in Delhi.
Several books written by Hari Vasudevan have been highly acclaimed in the international historical circuit. His admirers, both in India and abroad, are deeply saddened by the death of this former member of the Indian Council of Historical Research. 
Last Updated May 10, 2020, 5:53 PM IST