ED raids AAP's Delhi MLA Amanatullah Khan's home in money laundering case
The Enforcement Directorate on Tuesday raided the premises of AAP MLA Amanatullah Khan in Delhi as part of a money-laundering investigation against him and some others. The Enforcement Directorate (ED) searches are being undertaken under provisions of the Prevention of Money Laundering Act.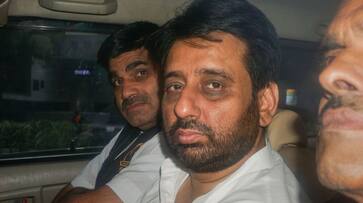 The Enforcement Directorate (ED) on Tuesday raided Aam Aadmi Party (AAP) leader Amanatullah Khan's Delhi residence in a money laundering case. The ED has initiated action based on two FIRs filed by the Delhi Anti-Corruption Bureau (ACB) and the Central Bureau of Investigation (CBI). The cases concern anomalies in the hiring process for the Delhi Waqf Board, whose head is Khan.
The searches are being carried out in accordance with the terms of the Prevention of Money Laundering Act (PMLA). The 49-year-old legislator represents the Okhla constituency in the Delhi Assembly.
Amanatullah Khan, the 49-year-old Delhi Assembly member from the Okhla seat, was detained in the same case by the Delhi ACB last year and later given bail in September 2022.
The lawsuit was founded on a complaint stating that Khan fraudulently hired 32 persons while serving as head of the Delhi Waqf Board, in violation of all standards and government directives. He was also accused of corruption and favouritism in the suit.
The raid at Khan's residence comes days after AAP leader and Rajya Sabha member Sanjay Singh was arrested on Wednesday (October 4) by the Enforcement Directorate in connection with a money laundering case linked with the Delhi liquor policy.
After Manish Sisodia, a former deputy chief minister, Singh is the second prominent leader to be detained in this matter, dealing a severe blow to Delhi's ruling AAP. Singh's detention has been referred to by the party as a "dictatorial step" by the Narendra Modi administration.
Last Updated Oct 10, 2023, 10:14 AM IST