Drunk passenger urinates on couple in Delhi-bound Sampark Kranti Express
The incident left the victims in shock as they traveled in an air-conditioned coach towards their destination. The accused, identified as Ritesh, was taken into custody, and legal action was initiated.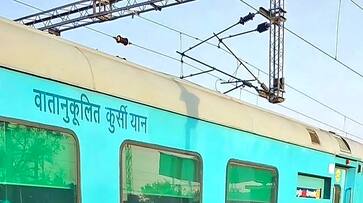 In a shocking incident, a man in his early 20s, heavily influenced by alcohol, reportedly urinated on a senior citizen couple while they were travelling in an air-conditioned coach of the Uttar Pradesh Sampark Kranti Express. This distressing incident occurred on a Wednesday night in the B3 coach of the train.
The train was en route to Virangana Lakshmibai Jhansi Junction when the elderly passengers, occupying lower berths 57 and 60, were left in a state of shock as they witnessed a young man urinating on them and their belongings.
"It was a traumatic experience for us. Our journey to the national capital was supposed to be peaceful, but we could never have imagined that someone would actually urinate on us," one of the victims, a retired orthopaedic professional from Banaras Hindu University, told the Times of India.
The alleged perpetrator, identified as Ritesh from Qutub Vihar in southwest Delhi, had boarded the train at Mahoba and was occupying the side lower berth number 63.
"The individual was severely under the influence of alcohol. After he urinated on us and our possessions, fellow passengers promptly alerted the coach attendant and Train Ticket Examiner (TTE). It was a nightmarish ordeal, with everything soaked and emitting a foul odour. The accused was disembarked at Jhansi railway station," recounted the victim.
According to an official source, TTE Basruddin Khan swiftly arranged for the coach to be sanitized by housekeeping staff. He subsequently filed a report with the Railway Protection Force (RPF) in Jhansi regarding the incident and handed over Ritesh to them for further legal action.
"The accused, Ritesh, was charged under Railway Act 145 for drunkenness or causing a nuisance," stated Manoj Singh, PRO of Jhansi division, North Central Railway. The RPF Station House Officer (SHO) in Jhansi clarified that the accused was granted bail, as the charge only pertained to drunkenness.
Last Updated Oct 6, 2023, 2:14 PM IST