Draping Thiruvalluvar statue with shawl lands Hindu Makkal Katchi leader Arjun Sampath in trouble
Cops arrested Hindu Makkal Katchi founder Arjun Sampath after he draped the Thiruvalluvar statue with a saffron shawl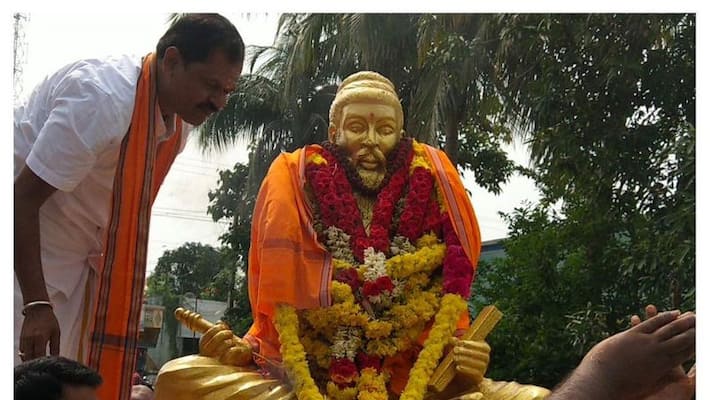 Thanjavur: The controversy over 'saffronising' Thiruvalluvar statue continued with Arjun Sampath, the Hindu Makkal Katchi leader being arrested for draping the statue with a saffron shawl.  
Vallam Police arrested Arjun Sampath for 'saffronising' the statue of well-known philosopher and poet Thiruvalluvar in Pillaiyarpatti, Thanjavur district. Arjun also garlanded the statue and adorned it with a rudrakshi mala.
Arjun was arrested hours after he visited the Thiruvalluvar statue in Pillaiyarpatti village where the statue was desecrated on Monday by smearing cow dung on it. Known to make provocative statements, Arjun saffronised the statue with a saffron shawl.
As many television channels showed live visuals, police swung into action and took Arjun Sampath into custody.
Arjun Sampath has added to the ongoing controversy of attempts by the BJP and pro-Hindu outfits to saffronise the Thiruvalluvar statue.
The raging controversy broke out after Tamil Nadu BJP shared a picture of Thiruvalluvar statue in a saffron robe on Twitter to commemorate Tamil Nadu foundation day on November 1.
The picture used on the Twitter handle of Tamil Nadu BJP was noticeably different from the one that is generally used by Tamil scholars and the government. The Thiruvalluvar statue is usually adorned with a white robe. However, the picture shared by BJP showed him wearing a saffron robe and is forehead smeared with the sacred ash (vibhudhi). This invited accusations that the Centre was trying to saffronise and appropriate Tamil icons. 
While the incident has created uproar among Tamilians including Tamil activists and politicians, a special team has been formed to identify and nab the perpetrators.
Prime Minister Narendra Modi has been trying to reach out to the Tamil population and also recently released a book on Thirukkural during his visit to Bangkok. Thirukkural is one of the finest literatures of Thiruvalluvar.
Last Updated Nov 6, 2019, 5:40 PM IST