Didi rises again in West Bengal, decimates Left and Congress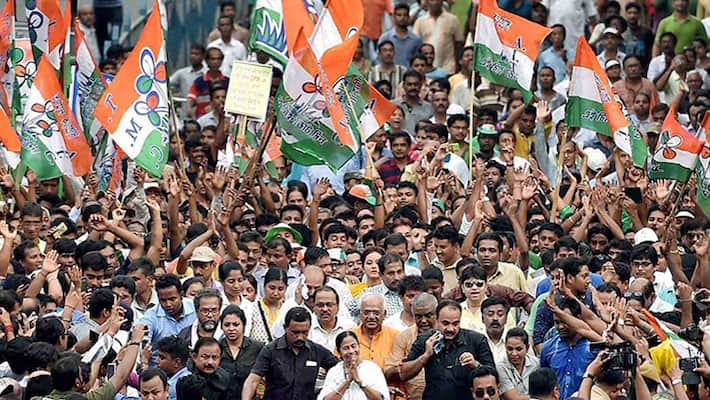 Mamata Banerjee, the stormy leader of West Bengal politics, once again proved that she is a master strategist as she has decimated the new Left-Congress combination and the BJP all of whom sought to checkmate her return to power.The 61-year-old feisty leader, who had single-handedly wrecked the red bastion in West Bengal in 2011 ousting Left Front's uninterrupted 34-year-old rule, was unfazed by the coming together of Left parties and their once bitter rival Congress ahead of the Assembly polls.
She also faced an all out attack by BJP which fielded top party stalwarts led by Prime Minister Narendra Modi, Amit Shah, a battery of Union Ministers and state leaders for campaigning but they finally found that there was no way to stop her Trinamool Congress from taking the crown. Founder and chairperson of the Trinamool Congress which she set up in 1998 after falling out with the Congress Party in West Bengal, Banerjee, fondly called `Didi` (sister) by her supporters, has been the nemesis of the ruling CPI(M)-led LeftFront and has earned the reputation of being a tough streetfighter.
Banerjee earned laurels for various development initiatives in the state but also faced criticism over Saradha chit fund and Narada scams. After taking over as the chief minister in 2011, she had steered Trinamool Congress through victory in subsequent elections to the panchayat, civic bodies and 2014 Lok Sabha. Among various development schemes undertaken by her as the chief minister were 'Kanyashree' schemes for girls and 'Sabuj Sathi' under which cycles were distributed among the students, besides Rs 2 kg rice for the 8 crore people in the state.
However, multi-crore scams like Saradha and Narada had dented the image of her party as the opposition had made it a prime issue.Born to a middle class family and daughter of a freedom fighter and student of law and education, Banerjee in her initial years in public life was mentored by  veteranCongress leader Subrata Mukherjee - now ironically a senior minister in her state cabinet.Banerjee, baptized into politics as a student leader in Chhatra Parishad - Congress' student wing in the 1970s, shot into limelight by pulling off a stunning victory over CPI-M heavyweight and former Lok Sabha speaker Somnath Chatterjee in the 1984 Lok Sabha elections in from Jadavpurconstituency to become one of the youngest MPs. She soon became a rallying point for the anti-Left Front forces which saw in her an uncompromising, incorruptible and incredible fighter in comparison to various senior leaders of state Congress of nineties.
Last Updated Mar 31, 2018, 6:37 PM IST