Devotees throng temples to offer prayers as shrines reopen across India
Shopping malls, restaurants and religious places are gearing up to reopen from Monday after over two months.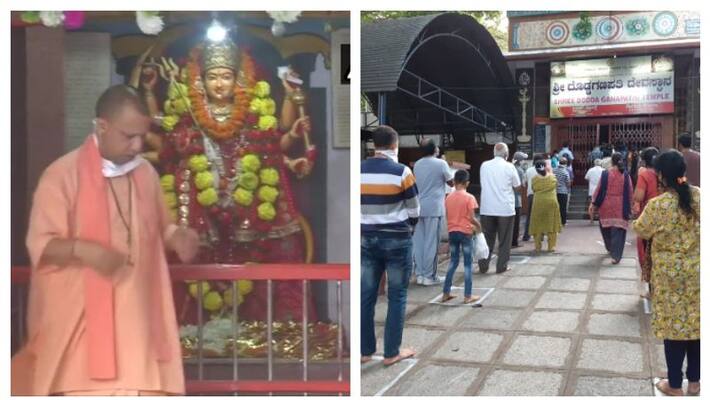 New Delhi: More than two months after the nationwide lockdown was put in place to curb the spread of coronavirus, people on Monday thronged temples across India as the government allowed reopening of religious places and malls from today.
As per ministry of health guidelines, touching of idols/holy books, choir/singing groups are not allowed.
With the nation seeing rising cases of coronavirus, the devotees were seen wearing masks and maintaining social distancing.
Uttar Pradesh CM Yogi Adityanath offered prayers at the Gorakhnath Temple on Monday.
Yogi Adityanath reached the Gorakhnath Math early on Monday morning to offer prayers as the temple opened for the first time in over two months since the nationwide lockdown shut down all religious places.
He had reached Gorakhpur on Sunday to inspect the local government hospitals.
Shopping malls and restaurants too are gearing up to reopen from Monday after over two months. This is part of the Narendra Modi-led government three-phased plan to gradually restart economic activities and reverse the countrywide lockdown enforced since March 25.
The government has already issued strict SOPs in this regard, which will be in place till the end of this month. However, the resumption of these services comes at a time when India has surpassed Spain to become the fifth worst pandemic hit country globally.
Last Updated Jun 8, 2020, 9:49 AM IST