Delhi's air quality still remains in 'severe' category, artificial rain likely on November 20
Delhi is battling "severe" air pollution for quite some time now. Environment Minister Gopal Rai held a meeting with scientists from IIT-Kanpur, who explained that the process is possible only when there are clouds or moisture in the atmosphere.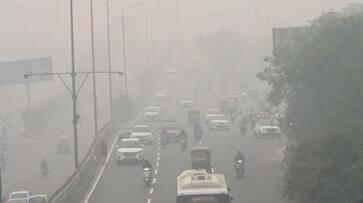 The overall air quality in Delhi continued to remain in the 'severe' category on Thursday morning. The city's overall air quality index (AQI) was recorded at 421 at 6 am, according to the Central Pollution Control Board (CPCB).
The city's air quality index (AQI) was higher than 400, according to many monitoring sites. Jawaharlal Nehru Stadium (414), Punjabi Bagh (444), Ashok Vihar (434), Patparganj (424), Okhla (433), India Gate (421), Moti Bagh (452), Dwarka (459), Anand Vihar (432), R K Puram (453), IGI Airport (446), and ITO (441).
With an AQI of 455, Greater Noida was the most polluted area in the National Capital Region (NCR), followed by Ghaziabad (370), Faridabad (414), Gurugram (397), Noida (397), and Noida (397).
Delhi's Environment Minister Gopal Rai on Wednesday held a meeting with a team from IIT Kanpur to discuss the possibility of artificial rainfall through cloud seeding to bring down the AQI in the city. After the meeting, the minister said that artificial rain could be used in Delhi on November 20-21 if the weather is cloudy.  "Experts anticipate that such conditions could develop around November 20-21. We have asked the scientists to prepare a proposal by Thursday that will be submitted to the Supreme Court," the minister told reporters.
Due to the extreme air pollution in the nation's capital, the Delhi administration on Wednesday declared an early winter holiday for schools, running from November 9 to November 18. Following the Supreme Court's comments, the Delhi government also banned the entry of app-based taxis registered in other states. Within the city, only taxis carrying the Delhi registration number will be permitted to operate. The Delhi Transport Department will issue a separate order specifying the start date of the prohibition.
Delhi's odd-even car rationing scheme also hangs in the balance, awaiting the Supreme Court's assessment of its effectiveness. This announcement comes from a recent statement made by the Delhi government.
Last Updated Nov 9, 2023, 9:27 AM IST